If you love to deep fry turkey, fish and just about anything, then Love Deep Fried Turkey is certainly in the right place for you to say and have a browse around.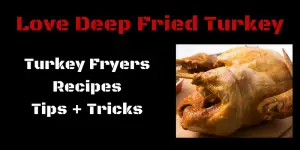 We LOVE talking deep-fried turkey, tailgating, fish frying and more. You'll find out everything you need to know about deep frying turkey, including oil-less turkey fryers, turkey frying gloves, fried turkey rubs, turkey fryer oils, turkey fryers and just about anything Southern-style cooking.
To deep fry a turkey, you have two main options: the inside and the outside deep fryers. Both have their pros and cons, and it largely depends on what kind of climate you live in. If in a cold climate with lots of snow or rain, then opt for an indoor fryer. If a warmer place, then definitely check out the outside fryers. Find out more about each of these favourite options here.
Inside Turkey Fryers
An indoor turkey fryer runs on electricity and sits on top of your countertop. They are quite safe if you follow the manufacturer's instructions. However, they can take a bit of time to heat up and clean and they don't work for the big, 20+ pound turkey. However, you don't have to deal with open flames or being outdoors on potentially uneven ground. Find out more about using an indoor deep fryer here:
Outside Turkey Deep Fryers
We generally prefer outdoor deep fryers if you live in a climate that lends itself to that. They are easier to clean, more powerful and they also keep the heat and smell of deep-frying outside and not in your house. They do require serious supervision and close attention to safety. Find out more about the top options here:
Turkey Deep Frying Accessories
Here's your source for everything you want to know about turkey frying pots, thermometers, meat injectors, lifting hooks and racks, a whole lot more.
Recipes and How to Deep Fry Turkey
Okay, so you've got your turkey fryer and you want to know how to deep fry a turkey in style! You've come to the right place. We have the best recipes for turkey rubs and marinades, a guide for safely frying a turkey, and a whole lot more. We've made it easier than ever for you to be the hero of that next big Christmas or Thanksgiving celebration.
Recipes and How to Deep Fry Turkey
Most Popular Articles at Love Deep Fried Turkey
If you're not sure where to start, then here are some of the top options. These are some of the most popular articles here at Love Deep Fried Turkey:
How Long to Deep Fry a Turkey? 
Turkey Fryer Replacement Parts
Kamp Kitchen Turkey Fryer Review
Top Picks for Turkey Deep Fryers
Do you want to see our top recommendations for deep fryers big enough to handle a turkey with style? Have a look on Amazon at our best options:
Contact Love Deep Fried Turkey
Do you have any questions or comments about anything deep frying, specifically turkey? Any recipes for fried turkey rub or tips for safely deep-frying a turkey or other cut of meat? We'd love to hear from you. Please drop us a line right here:
Contact and About for Love Deep Fried Turkey
Last update on 2021-08-05 / Affiliate links / Images from Amazon Product Advertising API