Are you looking for a reasonably priced complete turkey frying kit? Then this one from Kamp Kitchen should be at the top of your list. Read our buying guide packed with information the details you need to help you decide if it's right for you.
Kamp Kitchen Turkey Fryer
30 quart aluminum pot with lid
Fully welded steel stand
38,000 BTU cast iron burner
Chrome plated T-star turkey rack & lifter
Heat shield
Kamp Kitchen Turkey Fryer Kit Review
This Deep Fried Turkey Kit is an outdoor turkey deep fryer than runs on propane. This kit includes everything you need to deep fry a turkey outside except the propane bottle. This is a convenient way to get started with deep frying turkey, instead of trying to piece all the parts together yourself.
An Affordable Option with this 30 Qt Turkey Fryer
Priced very reasonably, this Kamp Kitchen Deep Fryer makes an affordable choice for people looking to deep fry turkey for their next family event. Deep fried turkey is moist and juicy on the inside and crispy on the outside.
—>Check Prices on the Kamp Kitchen Deep Fryer<—
Makes Delicious Fried Turkey
Most people who taste it for the first never go back to roasting it in the oven. Your friends and family will want to keep coming back for more every single holiday celebration!
Saves Space in the Oven
The best part about this item is that it frees up oven space when space and time is tight. You can roast veggies, and cook desserts with ease for your next Thanksgiving feast without having to worry about timing and oven space.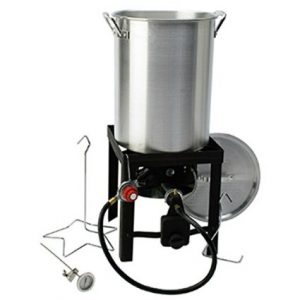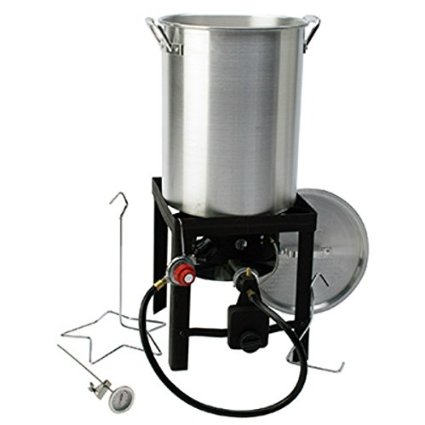 A Complete Turkey Frying Kit
The Kamp Kitchen Fryer comes with an aluminum pot + lid, stand, burner and stand, heat shield (for wind protection) as well as turkey rack and lifter basket. The burner puts out a powerful 38,000 BTU, meaning that your oil will heat up quickly and maintain the oil temperature once you put the turkey in.
Strong and Durable Stand
One of the major pros of Kamp Kitchen is the turkey fryer stand made from welded steel. It's super strong, durable and capable of supporting large pots filled with boiling oil and a turkey!
After all, the last thing you'll want to worry about when you've got your frying on is how strong your turkey fryer stand is, right? This is one of the strongest turkey fryer stands available today, apart from the cast iron ones.
Fry a Turkey in Under an Hour
A small-medium size turkey will deep fry in under an hour easily. This is a game-changer on that busy Thanksgiving day! Be a slave to the stove for hours no more.
Get the Kamp Kitchen Turkey Deep Fryer on Amazon
You can get this economical turkey fryer kit on Amazon today. Check now online for the best prices and to see if this product is eligible for free shipping with a Prime membership:

The Specs on this Deep Fry Turkey Kit: 
An outdoor turkey deep fryer that runs on propane
Includes a large, 30 qt pot
Also good for deep frying any kind of meat or home brewing
Burner with 38,000 BTU's of power
15 pounds
13 x 13 x 19 inches
Can cook other food besides turkey, including chicken, meat, veggies, soups, stews or seafood boils
Suitable for home brewing beer
How to Assemble an Outdoor Turkey Fryer Set
People that like the Kamp Kitchen Turkey Frying Kit are Saying: 
—>See More Customer Reviews and Ratings Here<—
"I love this turkey fryer. My Thanksgiving turkey turned out perfect and everyone commented on how delicious it was! They're hoping that they can come back for more next year. Plus, I love the additional space in the oven for other things."
"I fried up two turkeys in this thing last Thanksgiving and my whole family really enjoyed them. Clean-up was easier than expected (I thought it'd be a big hassle). The 30-quart pot is a nice size—not too big to be unwieldy but easy to get the entire bird in there."
"Exactly as advertised—a simple set-up for deep frying turkey. It works well and I have no complaints about it. I love that everything I need is included in the set. It saved me a ton of time running around looking for all the pieces."
"Set-up was pretty easy, as well as clean-up with this outdoor cooker. I'd recommend this to my friends."
Kamp Kitchen Turkey Fryer Negatives:
Some reports that the instructions were a little difficult to understand
The aluminum pot-the better quality (more expensive) ones are made of stainless steel, which makes them more durable and easier to clean.
The lack of safety features like automatic shut-off
Lack of power (38,000 compared to something like the Eastman Outdoors Turkey Fryer with 65,000 BTU's).
The Takeaway on the Kamp Kitchen Turkey Fryer
If you're looking for an extremely economical kit that will deep fry a turkey outdoors, this Kamp Kitchen set is perhaps it. There are very few complete kits that are so cheap, including shipping (this King Kooker Turkey Fryer is another one).
The Price is Certainly Right
Perhaps you're not sure that it's really for you and want to test it out? It could make sense to buy a cheap kit like this one and see what you think.
We understand that you might not want to drop $200+ on a more expensive set-up with a stainless steel pot, only to find out that it's not for you.
Although the Kamp Kitchen turkey fryer kit is not that durable, it'll work for at least a few times. It's maybe enough for you and the price is usually well under $100. Buying the pot, stand and fryer separately will cost you at least twice that, at minimum.
Get this 30 Quart Turkey Fryer on Amazon
Does it sound like this turkey fryer kit is right for you? You can easily order yours today on Amazon:

Tips and Tricks for Frying a Turkey
Need some help getting started with deep frying your first turkey? You'll want to check out this short video below:
Are Cheap Turkey Fryers Worth It?
A common question that we get from readers is whether or not cheap turkey fryers are worth it. Kamp Kitchen, a complete kit is the cheapest that you're going to find. But, are they worth it, or just a waste of money?
It Depends on the Situation
Our short answer is that it depends on your situation! If you're hosting a big party or family gathering and aren't worried about your kit lasting for years or decades, then consider a cheap turkey fryer such as this one.
The aluminum pot is not as durable as a stainless steel one, but you just have to be careful with it. Set it carefully onto the rack and ground, and store it in a place where it's not going to get bumped around too much.
Another negative is that his turkey fryer has a BTU rating of only 38,000. This means that it will take quite a bit longer to heat the oil up than with some of the other kits. However, if you're patient, and particularly if you live in a warmer climate where you're not fighting cool air temps, it should be no problem.
Value for Money-Look Elsewhere
If you're the kind of person who likes some good value for their money, then consider a more expensive deep fried turkey kit. Or, if you're impatient, the low turkey fryer BTU rating might make you a bit crazy.
More Power? Bayou Classic
Consider a deep fried turkey kit with more power! This one from Bayou Classic is a nice choice. Bayou Classic is certainly one of the best brands in the business.

Is there a Better Option for a Turkey Fryer?
The main difference between turkey fryer kits under $100 and those over $100 (like the Eastman Outdoors Turkey Fryer Kit) is the pot. The cheap ones are made of thin aluminum which can be quite difficult to clean and not so durable. The stainless steel ones clean very easily as well as last for decades.
The other major difference is the amount of power that the burner puts out. The cheap kits have about 1/2 the power of the more expensive ones which means that your oil will take longer to get up to temperature.
Which one is Right for You?
Which turkey deep fryer is best for you? If you're looking for a turkey fryer for a single use, then this Kamp Kitchen set is an obvious choice. If you're looking for a more durable kit to use multiple times over years, consider one of the more expensive ones.
Check out More Outdoor Turkey Fryers
See: All Outdoor Turkey Fryers for help in making the best choice for you and your family. Or, take a look at this handy comparison chart below:
What about an Electric Turkey Fryer?
If you're looking for an electric turkey fryer that doesn't run on propane gas, then you're going to want to check out this one from Masterbuilt Butterball. It's in indoor digital turkey fryer that comes in a various sizes to accommodate different weights of turkeys, up to around 20 pounds.
Some people in cold climates prefer an indoor fryer because it can be difficult to fry a turkey with an outdoor cooker when the temps are sub-zero. It's also a struggle to get your oil up to the correct temperature in situations like this.
Features of the MasterBuilt Butterball Turkey Fryer
Butterball is one of the most trusted names in turkey, and their electric turkey fryer lives up to the reputation. Here are just a few of the things you'll love about it:
Stainless steel construction
Runs on electricity
Temperate setting controls that are easy to use
Drain valve for easy clean-up
Drain basket makes it easy to remove the bird
Recipe book included
The machine weighs 20 pounds and can sit on your kitchen counter
It's one of our top-rated products here on this website.
Where to Buy this Indoor Deep-Fryer
Sounds like exactly what you need for your next holiday feast? You can check it out for yourself over on Amazon by clicking the button below. Find the best prices and learn more about it here:

Have your say about this Kamp Kitchen Turkey Fryer Review
What are your thoughts on this Turkey Fryer Kit from Kamp Kitchen? Is it the right one for you, or are you considering another option?
Leave a comment below and let us know what you think. We'd love to hear from you.
And don't forget to share this on Facebook, Twitter, or Pinterest. It'll help other deep frying enthusiasts, like yourself find this useful resource.
Last update on 2021-08-05 / Affiliate links / Images from Amazon Product Advertising API