Are you looking for a reasonably priced turkey deep fryer? The Grillsmith All-In-One turkey fryer should be at the top of your list. Read our buying guide packed with information to help you decide if it's right for you.
A Review of the GrillSmith Turkey Deep Fryer
Picture this. It's Thanksgiving or Easter and you're out in the garden frying a turkey. Your whole family is there, anxiously awaiting the finish of your masterpiece from the Grill Smith Fryer.
Sounds awesome, right? It certainly can be really fun to have a turkey fryer set for your next big Thanksgiving feast.
The Grillsmith All-In-One 30 Qt. Turkey Fryer is a newcomer to the turkey fryer world. It's an all-in-one kit that contains everything you could possibly need to get started with deep frying turkeys. You just need to hook up your propane bottle and start frying!
Complete Turkey Frying Kit
The price is most certainly right if you're looking for a cheap turkey fryer for your next Thanksgiving or Christmas feast. It's less than half the cost of some of the more expensive turkey frying kits that come with stainless steel pots (this one is aluminum).
Deep Fried Turkey = Delicious
Maybe you've never had the good fortune of trying deep fried turkey before? If this is the case, we're here to tell you that deep fried turkey is really, really delicious. Moist and juicy on the inside but golden crispy on the outside.
It's Very Easy to Deep Fry a Turkey
Plus, a small to medium size turkey can be deep fried in under an hour. Deep frying turkey also frees up a ton of oven space, leaving room for casseroles of all kinds on that next big family feast day. It's also easier than you think. See: How to Deep Fry a Turkey.
Includes an Aluminum Pot, Along with Stand and Regulator
This Grillsmith All-In-One 30 Qt. Turkey Fryer comes with a 30-quart aluminum pot that can deep fry turkeys of up to 18 pounds. The Grillsmith includes a stand, an adjustable regulator to control the temperature, as well as a basket to ensure safe deep frying.
Where Can I Buy this Turkey Fryer?
You can easily get this popular turkey frying kit on Amazon today. Check now for the lowest prices and to see if this product is eligible for free shipping with a Prime membership.

Key Features:
Fries turkeys up to 18 pounds (for 25+ pound turkeys, check out this Bayou Classic Turkey Fryer).
Aluminum, 30 Qt pot.
Heavy-duty stand
Adjustable regulator
Includes a bonus recipe book
Everything you need to deep fry turkey except the propane tank
Grill Smith Turkey Fryer Pros:
All-in-one kit for easy turkey deep frying
Can also be used to brew beer
Automatic shut-off timer as an added safety feature
Heavy duty construction
Sounds like the propane turkey fryer set for you? It might be! You can check it out for yourself over on Amazon:

What People are Saying about the Grillsmith Outdoor Turkey Fryer
—>See More Customer Ratings and Reviews Here<—
"The instructions were a little bit confusing, but it worked well once I got that figured out. The unit is for 18 pound turkeys maximum and I pushed it to the limit with 18.5! It fried the turkey nicely, but don't go bigger than that. I liked the additional space in the oven with this thing."
"I cut a hole in mine, added a spigot and now use it to brew beer. It works nicely and I love that the complete set-up comes in a single package. It's so much easier than running around trying to find all this stuff on its own."
"An excellent turkey deep fryer! My only (small) complaint is that I wish it didn't have an automatic shot-off timer thing. Don't skip reading the instructions—lots of helpful tips in there to get going."
How to Assemble the Grillsmith 30 qt Turkey Fryer Set
It's actually quite easy to set up a turkey fryer. This kit includes some simple instructions and you should be able to get it up and running in a few minutes.
Remember that you'll also need a propane tank which is not included. We recommend getting a fresh fill because it can take a good amount of propane to get the oil up to the correct temp, and then your turkey may require an hour or so of cooking time, depending on size.
GrillSmith All-In-One Turkey Fryer Cons:
Aluminum pot. While cheaper, aluminum pots have a reputation for not being very durable. Stainless Steel Pots are often a better choice.
Only fries turkeys up to 18 pounds.
People don't like the automatic shut-off timer.
Confusing directions and set-up not as easy as expected
Not as healthy as something like an air fryer
Deep Fry Turkey Size Limit with the Grillsmith Turkey Fryer
The Grillsmith Turkey Fryer has a limit of 18-pound turkeys. Of course, it can handle a duck, small chicken, and you can use it for a fish fry or seafood boil quite easily.
Can you exceed this 18-pound capacity if necessary? We don't really recommend it. Even an 18 pounder is kind of pushing the limits and you may find it difficult to get enough oil in the pot to cover the entire turkey without it spilling over the sides.
In general, we recommend using a turkey with a maximum size of 2 pounds lower. This makes the whole process go more smoothly, especially if you're just starting out. For example, this one should be used for 16-pound turkeys, or less.
Of course, there are turkey deep fryers with a higher size limit. See below for more details about one of our favourites (the Grand Gobble from Bayou Classic).
The Takeaway on the GrillSmith All-In-One Turkey Frying Kit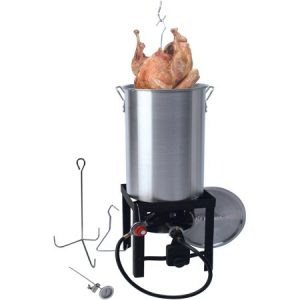 If you're looking for a top-quality turkey frying kit, this one probably isn't it. The reviews on Amazon aren't that great and we don't love it for a few reasons including the automatic shut-off timer (every 15 minutes), confusing instructions to get it up and running, as well as the aluminum pot which doesn't appear to be commercial grade.
Can Fry up to 18 Pound Turkeys
However, once people figured out how to put the turkey frying set together, it worked reasonably well. Plus, it can handle up to 18 pound turkeys, more than many of the other cheap turkey deep fryers out there.
Reasonably Priced Option
Overall, it's probably not a terrible choice if you're only going to use it once or twice (similar to the Kamp Kitchen Turkey Fryer). However, if you're looking for a more durable product that is going to last you for years to come, you'd be better of spending your money elsewhere.
Shop Now
You can check it out for yourself over on Amazon. Click the button below to see the best prices, and don't forget to see if this product is eligible for free shipping with a Prime membership:

Are there Other Outdoor Deep Fryers?
For a top-quality turkey fryer, we recommend the following two options:
#1: Eastman Outdoors Outdoor Cooking Set
Eastman Outdoors Stainless Steel Cooking Set– A premium turkey deep frying kit for those who are serious about their outdoor deep frying! It includes a stainless steel pot, heavy-duty stand and is just all around superior in just about every way to this set from Grillsmith.
If you plan on buying only one deep fried turkey kit to last you a lifetime, this is a great one to consider. You can get this top-quality outdoor deep fryer on Amazon today:

#2: Bayou Classic Turkey Frying Kit
Bayou Classic Stainless Steel Outdoor Turkey Fryer Kit - 32 qt.
The stainless steel turkey fryer has a vented lid and heavy-duty handles
Holds 3.5 gallons of oil and can cook up to an 18-lb bird / Commercial-grade stainless steel cookpot
Includes basket, poultry rack and thermometer / Single-burner patio stove
50,000 BTUs of heat, 16 x 16" cooking surface / Stove dimensions: 16"L x 16"W x 13"H
UL-listed hose, regulator and valve assembly / Pot: 14"D x 18"H
Grand Gobbler Turkey Fryer from Bayou Classic– One of the top names in propane deep frying, Bayou Classic puts out some top-quality products at a very reasonable price. This particular turkey fryer comes with an aluminum pot, but it's a commercial grade one which is thicker and far more durable than the thin one that comes with this Grillsmith. It's also capable of cooking turkeys of 25 pounds or more, which is perfect for those larger family gatherings.
The stand is top-quality, and the burner puts out some serious heat so that the oil comes up to temperature quickly and easily. If you want to cook a serious turkey outdoors, the Grand Gobbler is most definitely the one for you.
Check out this beast of a turkey fryer on Amazon today:

FAQs
There are a number of common questions that people have about this deep frying kit. Here are the answers to some of the most popular ones.
How does the Grillsmith turkey deep fryer work?
The Grillsmith turkey deep fryer uses propane as a fuel source to heat the oil in the fryer pot. The turkey is immersed in the hot oil and cooked until it reaches the desired level of doneness.
Is the Grillsmith turkey deep fryer suitable for indoor use?
No, the Grillsmith turkey deep fryer is intended for outdoor use only due to the open flame and ventilation requirements.
What is the capacity of the Grillsmith turkey deep fryer?
The specific capacity may vary depending on the model, but Grillsmith turkey deep fryers typically have a capacity ranging from 26 to 30 quarts.
How long does it take to cook a turkey in the Grillsmith deep fryer?
Cooking time can vary depending on the size of the turkey and the desired level of doneness. As a general guideline, it typically takes around 3 to 4 minutes per pound of turkey.
Are there any safety precautions to consider when using the Grillsmith turkey deep fryer?
Yes, it's essential to follow the manufacturer's instructions and take necessary safety precautions. This includes keeping the fryer a safe distance from flammable materials, monitoring the temperature of the oil, and using protective gear, such as oven mitts and goggles.
Can I reuse the oil used in the Grillsmith turkey deep fryer?
Yes, you can reuse the oil if it is properly filtered and stored in a clean, airtight container. However, it's recommended to use fresh oil for each frying session to ensure the best flavor and safety.
Is the Grillsmith turkey deep fryer easy to clean?
The cleaning process may vary depending on the specific model, but generally, the fryer pot and other removable parts are dishwasher-safe. However, it's important to refer to the product's manual for detailed cleaning instructions.
Can I fry other foods besides turkey in the Grillsmith deep fryer?
Yes, the Grillsmith turkey deep fryer can be used to fry a variety of foods, including chicken, seafood, and vegetables. Just make sure to adjust the cooking time and temperature accordingly for different ingredients.
Grillsmith Turkey Fryer: Have your Say!
What are your thoughts about this 30 qt turkey fryer? Leave a comment below and let us know.
Also be sure to give this article a share on Facebook, Twitter, or Pinterest. It'll help other home cooking enthusiasts, like yourself find this useful resource.
Last update on 2021-08-05 / Affiliate links / Images from Amazon Product Advertising API