Sale
Are you looking for a healthier alternative to deep fried turkey? Then you may want to consider this oil free turkey fryer than runs on electricity (not propane like many other options).
Read our buying guide packed with information to help you decide if it's the right choice for your needs. It's one of the top products on the market today and a nice alternative to cooking turkey in the oven.
Butterball Oil-Free Electric Turkey Fryer and Roaster Review
The Butterball Oil-Free Electric Turkey Fryer is a top-rated outdoor fryer on Amazon. If you're looking to cook turkeys of up to 18 pounds inside with no oil, this Butterball fryer is an excellent choice!
There are a number of new air fryers you can find today. However, this one has been top of the class for years, and it still takes the top spot today.
2 Distinct Advantages for the Butterball Oil Less Fryer
There are two huge advantages to this oil-free turkey fryer. The first is that you can use wood chips. Smoky BBQ flavour? Yum! Please note, however, that this isn't a smoker.
The second is that you can catch the turkey drippings. The result is some extra delicious gravy.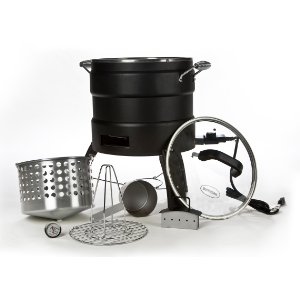 Looking for an Outdoor Oil Fryer?
If you're looking for an outdoor turkey fryer that uses oil and runs on propane, this is not the one! It's an oil-free fryer that runs on electricity. Instead, consider the Eastman Outdoors Stainless Steel Cooking Set. 
Crispy, Moist Turkey
Almost all the reviews mention that this turkey fryer turns out turkeys that are moist on the inside and crispy on the outside, almost similar to a deep-fryer but minus all the oil and calories.
The best part about it is that it can cook at a rate of around 10 minutes per pound, meaning a 15-pound turkey will take only around 2.5 hours. This is certainly faster than a conventional oven.
For best results, we recommend heating up the machine for an hour before use. You should also use a turkey rub of some kind on the outside (along with some oil or butter). We have some recipe ideas below so keep on reading.
Or, you can add an injectable marinade as well as there's no fear of exploding like with deep frying!
Powerful, 1600-Watt Cooking Element
This electric oil less turkey fryer comes with a ton of features including double-wall construction to make use of radiant, infrared heat, a powerful 1600-Watt cooking element, built-in box for wood and a pan to catch drippings. You can use one of these rub recipes for amazing results.
There's also a 90-day warranty as well as excellent customer service from Amazon.
Free up Space Inside the Oven

One of the main reasons why you might consider the Masterbuilt Oil Free Fryer beside the taste and health benefits when compared to deep frying is because of the convenience. Holiday celebrations are often busy days and oven space is at a premium.
You probably want to roast vegetables, make desserts, and heat up side dishes, but it's difficult to do this when the turkey is in the oven for hours.
A turkey roaster can free up this much-needed space, making your day easier and more stress-free. Plus, if you live in a warm climate, you'll love getting the heat out of the kitchen!
What's the Capacity?
This roaster can handle turkeys up to 18 pounds. It's also ideal for whole chickens, ducks or other cuts of meat as well.
Is it Safe?
It's an excellent question. Everyone has probably seen those YouTube videos about turkey fryers exploding, or heard about houses burning down due to frying turkey and wants to know if this one is safe.
The good news is that this machine is very safe! We love that it runs on electricity because you don't have to worry about connecting tanks, or lighting it. You just plug this machine into the wall.
The second safety consideration that you'll appreciate is that there is no oil. Compare this to the outdoor deep fryers where you have an open pot of boiling out on a flimsy stand. That certainly is a recipe for disaster with little kids and pets around.
Finally, it does have a kind of a high center of gravity. This makes it easier to handle, but you should also be very careful to put it on a flat, hard surface for cooking. And then, make sure nobody bumps into it while it's turned on, but instead give it a wide berth (children and pets!).
Cheaper than Deep Frying
Another reason to consider an air-fryer is because it's much cheaper than a deep fryer. You don't have to buy vats of peanut oil every single family celebration!
Plus, using electricity is cheaper than filling up a propane tank like with most other outdoor fryers.
Get the Butterball Turkey Roaster on Amazon Today
You can easily get the Butterball Oil-Free Electric Fryer on Amazon today. Don't forget to check if it's eligible for free shipping with a Prime membership:

The Specs on the Butterball Oil-Less Turkey Roaster: 
Fries with  no oil
Electric (for outdoor use). You don't need a propane tank.
Cooks turkeys (or chickens) up to 18 pounds (@10 minutes/pound), as well as meat, pork, chicken and seafood.
Built in wood chip box
Built-in tray to catch drippings
Tempered glass lid so you can can keep an eye on your bird as it's cooking
Stay cool handles that can be touched even throughout the cooking process
Thermostat temp control with the touch of  a dial
90-day warranty
34 pounds
15 x 16 x 16 inches
Powerful 1650 Watt electric element
Includes a cooking basket for easy lifting out of the machine
Includes a sturdy stand keeps the heat off your deck or patio
Easy assembly with just a Phillips screwdriver
Well insulated so oil stays hot longer
Quick-start guide included
Masterbuilt Oil Free Turkey Fryer Features and Results
What Does It Include?
The contents of the box includes:
Thermostat temperature control

Tempered glass lid

Turkey stand

Roasting basket

Lifting hook

Drip pan for easier clean-up

Wood chip box

Manual
People that Like the Butterball Oil-Free Turkey Fryer are Saying: 
—>See More Customer Ratings and Reviews Here<—
"The Butterball oil-less fryer works amazingly well! When I cut into my turkey, juices flowed out of it. Way better than cooking it in a normal oven and my entire family agreed with me! I also use it to cook chickens all year round with some great results. It's quite a versatile unit and I imagine you could cook a lot of stuff in it actually."
"A great product at a great price. I'll be using this Masterbuilt Buttergball Fryer at every single holiday! My family can't get enough at peeking at the turkey through the glass lid as it's roasting."
"I love this Butterball Oil-Free fryer. The turkey was 50% better than deep-fried and way healthier too, and I use it for all different kinds of food too."
"Very simple and easy to put together; it only took me about 10 minutes. It also cooks up some really flavourful and moist turkey and my family keeps asking me to cook it every single year!"
"I love the Butterball Roaster because it frees up space in my oven to cook other dishes when I have all my family coming over. It's super convenient and I just store it in the corner of my garage when I don't need it."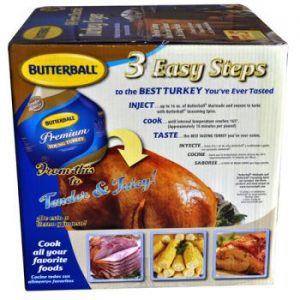 Butterball Oil Less Turkey Fryer Negatives: 
Skin not as crispy as compared to a turkey deep fryer that uses oil
Some reports that it does not cook turkey as fast as the manufacturer claims (slower than 10 minutes per pound).
Works best for smaller turkeys of 12 pounds. Although it can handle slightly larger turkeys, you'll have to stuff it in the machine. The result is that the outside may be burnt before the inside is fully cooked (you can check internal temperatures with a meat thermometer).
Only to be used outside, even though it runs on electricity.
Can take a bit of time to clean (although easier than a fryer that uses oil)
Be careful as the outside can get quite hot
Masterbuilt Butterball Oil Less Fryer Recipe #1
Many people find that a rub for turkey or chickens works well with these oil-free fryers. You can find some of our recommendations here (from Paula Dean, Martha Stewart, Epicurious and more): Best Turkey Rub Recipes. Do you want to share any tips? Leave a comment below for us with your home cooking secrets.
Beyond that, because you're not deep-frying this turkey, you can stuff some things inside of it to enhance the flavour. It'll also make your gravy extra delicious (don't forget to put the drip pan underneath your turkey to catch the the drippings)!
Some ideas for recipes include:
Peeled onion or garlic
Lemon
Sprigs of Rosemary or other herbs that you like
Be sure to dry the turkey well after thawing with paper towels in order to prevent steaming. Then, rub olive oil all over the outside of your turkey before putting on the dry rub for best results.
Beyond that, follow the instructions that come with your oil-free electric fryer as far as cooking times go, and you should have some excellent results.
Oil Free Turkey Fryer Recipe #2
Here's another recipe that involves brining that you can try out in the video below:
Butterball Oil Less Electric Turkey Fryer Recipe #3
Another recipe for roasting turkey with your electric oil less fryer involves both a rub, and an injection. If you're going to go with this one, you'll need an industrial size needle to get the job done. The one we recommend is the Grill Beast Professional Marinade Needles.
Here's what you're going to need for this recipe:
Turkey Rub
Italian seasoning
Vegetable oil
Turkey Injection Sauce
Melted butter (1/4 cup)
Chicken broth, warmed up (1 cup)
Fresh lemon juice from 1 lemon
Garlic power (1 teaspoon)
Salt and pepper (to taste)
Inject your turkey at 1 inch intervals with the injection sauce, using a marinade needle. Use the rub on the surface of the bird, both inside and out.
Follow the manufacturer's instructions for cooking the turkey. Use a meat thermometer to ensure that the correct internal temp is reached (165F for white meat, 180F for dark meat). Be sure to let it rest for 10-20 minutes prior to carving it to seal in the juices.
Can I Put the Stuffing Inside the Turkey?
Many people cook the stuffing inside the turkey when they're doing it in the oven. What about with this turkey fryer from Masterbuilt?
In general, it's not a great idea to cook any stuffing inside a turkey, no matter how you're cooking it. Doing so puts your whole family at risk for food poisoning because the stuffing may never really reach the correct temperature in the middle, but it's been exposed to the raw turkey juices.
Another reason to not do this is that the stuffing can suck the juices out of the turkey, leaving it a bit drier than it should be.
Cook stuffing by itself in the slow cooker or oven please! We personally cook ours in the slow cooker on low for 4-5 hours and find that it's moist and juicy, but a bit crispy on the outside.
And of course, you should NEVER fry turkey with stuffing inside.
The Takeaway on the Butterball Oil-Free Electric Turkey Fryer/Roaster:
If you're looking for indoor turkey fryer, this Masterbuilt Butterball Fryer makes an excellent choice. Besides making some delicious Thanksgiving or Christmas turkey, it frees up oven space for other things.
When you have a big family gathering, this turkey fryer just takes up a small bit of space, and then you can put casseroles, potatoes, bread, desserts and other things in the oven. It makes feeding a large group of people easier than ever.
Amazing Flavour, as well as Drippings for Gravy with the Butterball Oil Less Fryer
But most importantly, the flavour! Although it doesn't produce turkeys as crisp on the outside as an oil fryer would, this is to be expected for an oil-less fryer. What it does do is cook delicious, moist turkeys.
It also does two things that oil turkey deep fryers don't: allow you to use wood chips for some serious flavour and also to collect the drippings to make delicious gravy. This Masterbuilt turkey fryer is definitely a star in the kitchen!
Can it Cook Large Turkeys?
If you're looking to cook a giant, this probably isn't the machine for you. The company recommends using this oil free electric turkey fryer for turkeys of up to 18 pounds, but you'll probably have the best results with smaller turkeys
You'll have to jam the 18 pounder in the machine, and it may result in uneven cooking. It may be cooked/burnt on the outside but not on the inside.
If you're looking to go big (and oil-free), we recommend the Char-Broil Big Easy. Or, if you're happy with regular fried turkey, the Grand Gobbler.
Get yourself this Oil-Free Turkey Fryer Today
You can easily get it on Amazon today. Check now for the best prices and deals:

Looking for a Turkey Deep Fryer?
If you're looking for a more traditional turkey deep fryer that uses oil, please check out our Top 5 Turkey Fryers. Or, have a look at this handy comparison chart below:

Butterball Oil Free Electric Turkey Recipe: Have your Say!
What are your thoughts about this Butterball roaster? Leave a comment below and let us know what you think.
Also be sure to share this review with your friends or family members on Pinterest, Facebook, or Twitter. It'll help other foodies, like yourself find this useful resource guide.
p.s. If you need even more ideas for what you can do with this air fryer, you'll want to check this out: Oil-Free Fryer Recipes.
Last update on 2019-07-22 / Affiliate links / Images from Amazon Product Advertising API