King Kooker Turkey Fryer Replacement Parts
If you're looking for turkey fryer replacement parts, you've come to the right place. We're going to share our top turkey fryer parts from King Kooker, a trusted name in everything deep frying. If your turkey deep fryer is broken, it likely can be repaired, instead of having to get an entire new turkey frying set. Although it will take you a bit of time to repair your turkey fryer, it'll save you a lot of money in the long-run.
Please note that these turkey fryer replacement parts are for the outdoor, propane deep fryers. The indoor electric deep fryers are much more difficult to fix and it's often recommended that you just buy a new one instead of the DIY repair.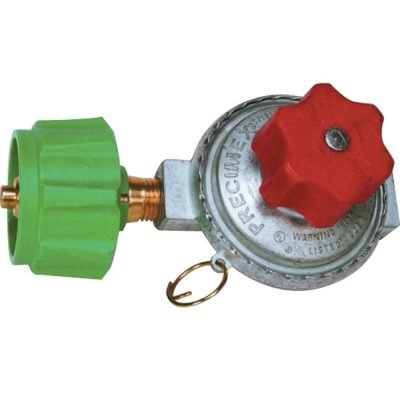 King Kooker Low Pressure Burner with Orifice
This item is a low pressure burner. Here are the details:
6-Inch low pressure casting

Orifice block

Air Shutter and Spring
People on Amazon comment that it puts out a nice, even heat that is perfect for smoking or BBQing. If you want to simmer a pot on low for a long time, this one makes a great choice.
You can buy one of the most popular turkey fryer replacement parts on Amazon:

How to Set up the King Kooker Turkey Fryer
King Kooker 30502 High Pressure Adjustable Regulator
On some of the cheap turkey fryer kits, you'll likely be unhappy with the regulator. They are often quite difficult to adjust to your desired amount of flame. This adjustable regulator from King Kooker will allow you to get the amount of flame you need easily and with minimal hassle. Another thing that this one doesn't have is a safety shut-off. Although it can be useful, it's also annoying. A unit that shuts off mid turkey fry? It's not a feature that we recommend.
Looking for a cheap replacement? This is the lower-quality version of it.
Here are the details:
High pressure adjustable regulator

Type 1 connection and stainless steel braided hose with Male pipe thread and orifice

Stainless Steel braided hose

1/8″ male pipe thread with orifice

Pressure: 5 psi rating

30-Inch stainless steel hose

5 PSi regulator with type 1 connection

1/8-Inch Male Pipe Thread End Fitting with Orifice
You can check out this turkey fryer part on Amazon:

King Kooker Turkey Fryer Replacement Burner (High Pressure)
If you damaged the burner on your turkey fryer for some reason, fear now! You can buy yourself a top-of-the-line replacement burner. Please note that this one is a high pressure burner. Learn more about it here:
Runs on propane
23 brass jets
Brass ball valve
3/8″ male fitting
Does it sound like exactly what you need to get your turkey fryer up and running again? You can check it out over on Amazon.com:

Learn How to Replace a Turkey Fryer Burner
Heavy Duty Food Skimmer
One of the things that is pretty hard to clean on a deep frying kit is the food skimmer. Things get stuck in there and it can be difficult to get it really clean. Here is a replacement if yours has seen better days. Check out the details:
Skims, stirs or strains a variety of foods

Includes a 6″ bowl

Measures 20″

20-Inch skimmer

6-Inch diameter bowl

Heavy duty nickel plated wire mesh skimmer

Great for skimming, stirring, and straining all types of food
You can get it easily on Amazon:

Turkey Fryer Replacement Pot
If you don't look after your frying pot, then may be less durable than you hope they would be. This is particularly true for the cheaper, thinner aluminum ones as compared to the top-quality stainless steel pots. 
To make sure they last as long as possible, ensure that you clean them well after each use and store them in a safe place. When in use, set them gently on the burner and make sure that your flames are not too high.
However, if you'd like a replacement pot, you can check out some of our top picks here:
Have your Say about these Turkey Fryer Parts
Where's your go-to place to look for turkey fryer replacement parts? Leave a comment below and share your secrets with us!
Also be sure to give this article a share on Facebook, Twitter, or Pinterest.
Last update on 2020-05-11 / Affiliate links / Images from Amazon Product Advertising API