Are you looking for some top-rated, cheap turkey fryers that will get the job done, but doesn't necessarily have all the bells and whistles of some of the more expensive options?
Then keep on reading for our top picks for a cheap turkey fryer to consider. Consider this your super-practical buying guide to all things turkey fryers with the lowest prices that'll still get the job done!
Best Cheap Turkey Fryers: Top 7 Picks
Do you know that even if you are a practical cook, you can still create a festive mood at home? Serve your family special dishes without having to spend much money. Surprise them with a special homemade, deep fried turkey. You might think it's an expensive thing to do, but it doesn't have to be. There are plenty of cheap turkey fryers for less than you might think.
Turkey Deep Fryers at Reasonable Prices
More so, you might find the turkey fryer expensive that you need to shell out hundreds of dollars for one. Well, here's the great news! You can own a turkey cooker at such a reasonable price. Here, we have come up with a list of the best cheap turkey fryers to still let you serve delicious turkey minus the high cost.
Find the Cheap Turkey Fryer that's Right for You!
Our reasons for selection and inclusion of these products in our list are the features, quality and most of all, the price which you, as a practical homemaker will surely agree. As we do in our other list, our No.1 is the cheapest, and yet, it is of high-quality.
The last in the list may be the most expensive but undoubtedly still affordable. Read on and find which one suits your budget and preferences. You're sure to find the cheap turkey deep fryer that's right for your needs.
#1: King Kooker Turkey Fryer Kit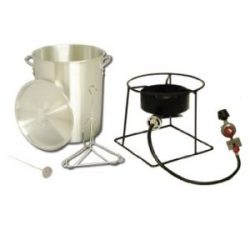 The King Kooker Turkey Fryer Kit is the first in our list of turkey fryers on sale as it is the most affordable. It cooks dishes on propane so this means, you can cook the turkey outdoors only. This is ideal for you if you want to turn ordinary days into special ones.
This turkey frying kit cooks smaller turkeys best. A 12 to 15-pound turkey is so perfect for this best-selling cookware piece. If you're looking to cook a giant, you'll want to stick with the Grand Gobbler from Bayou Classic.
Includes Everything You Need for Deep Frying a Turkey
The King Kooker Turkey Fryer Kit comes with a 29-quart pot. The package also includes a lifting kit and rack. In other words, this turkey fryer has everything you need but the propane tank for your deep-frying outdoors.
Why wait for the next Thanksgiving, Christmas Day or Easter celebration when you can serve Turkey now? Impress your whole family and all your friends with the fried turkey's moist meat and crispy skin. Here's the better news! You can deep-fry the turkey in just a few minutes. Forget about the hours and hours of baking in the oven.
More Information and Where to Buy the King Kooker Turkey Frying Kit
See: Full Review of the King Kooker Turkey Fryer Kit.
Or, check out the King Kooker Turkey Fryer for yourself on Amazon.
Click the button below to find the best prices and also to see if this product is eligible for free shipping with a Prime membership:

Learn more about Turkey Frying with the King Kooker Fryer
Do you want to find more about one of the most popular cheap turkey fryers? Check out this short video below for all the details you need to know:
---
#2: Masterbuilt Butterball Indoor Electric Turkey Fryer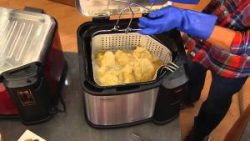 Second in our list is the Masterbuilt Butterball Indoor Electric Turkey Fryer. We ranked it second as it is the next most affordable among our five best turkey fryers here.
You'll be more impressed especially that it is the No.1 bestseller in turkey fryers. Our second best is a perfect choice for you if you prefer bigger and heavier turkey.
Can Cook up to a 2o Pound Turkey
You can cook up to 20 pounds or nine kilos of turkey with this fryer.  Do you want to do other things at home while you prepare the turkey for a special meal? Then, this turkey fryer is the best for you. It is an indoor electric turkey fryer so you can leave your turkey inside it while attending to the other chores.
Butterball Turkey Fryer: Designed for Indoor Use
Since this is an indoor cooker, expect the Maserbuilt Butterball Indoor Electric Turkey Fryer to be lightweight and compact. It is certainly safe and easy to use this cooking equipment. It also perfectly fits your countertop.
A lot of homemakers who have this have already attested that their turkeys come out delicious-moist inside and crispy skin outside. And the best thing about it is that, they are able to cook their turkey in just a short time.
Masterbuilt MB23010618 Fryer, XL Stainless Steel
Aluminum basket with patented drain clips
Oil drain Valve for easy clean-up
Dishwasher safe components (pot, basket, lid, drain valve)
Designed and tested to meet commercial standards.Magnetic breakaway cord for safety
Magnetic breakaway cord for safety
More Information and Where to Buy Cheap Fryers
See: Full Review of the Masterbuilt Butterball Indoor Electric Turkey Fryer. Or, head over to Amazon and get yourself this top-quality indoor turkey fryer today:

---
#3: Kamp Kitchen Turkey Fryer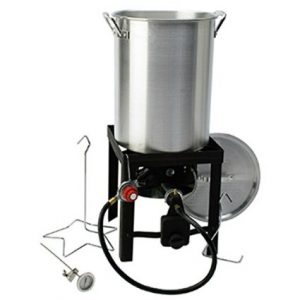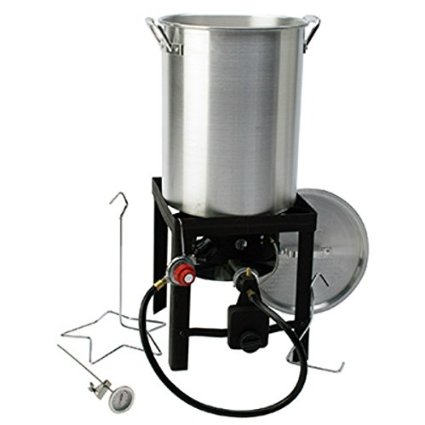 Like our second in the list of the cheapest turkey Ffryers, the Kamp Kitchen Turkey Fryer also doesn't cost an arm and a leg. It is one of the outdoor turkey fryers running on propane.
Our Pick for The Best Inexpensive Deep Fryer
It comes with everything a cooking enthusiast needs for deep-frying the turkey outdoors. Isn't this quite a reasonable choice for individuals like you who are looking forward to deep-frying turkey for their loved ones on special events?
Moist, Juicy Fried Turkey with Kamp Kitchen
You are sure to achieve a restaurant taste with this one. When you use this, your deep fried turkey is guaranteed moist and juicy inside and crispy outside. If it is your first time to taste deep fried turkey, you sure, won't ever go back to roasting it in the oven again.
Free Up Space Inside your Kitchen with Outdoor Cooking
What's even better about this turkey fryer is that, it frees space inside your kitchen as this kitchen equipment is for outdoor use.
Our 3rd among cheap turkey deep fryers comes with an aluminum pot and lid; a stand; a burner with stand; a heat shield (for wind protection), and a turkey lifter and rack. You'll surely like the burner that puts out a forceful 38,000 BTU. This means that your oil quickly heats up and retains the heat the moment you put your turkey in.
How Much are Turkey Fryers? 
Find out more about turkey fryer prices by checking out this chart below for the Kamp Kitchen one:
Kamp Kitchen Turkey Fryer
30 quart aluminum pot with lid
Fully welded steel stand
38,000 BTU cast iron burner
Chrome plated T-star turkey rack & lifter
Heat shield
More Details about the Kamp Kitchen Turkey Deep Fryer
See: Kamp Kitchen Turkey Fryer Review.
Shop Now for Turkey Fryers for Sale
Or, head over to Amazon to get this complete outdoor turkey frying kit today. Click the button below to check for the lowest prices and also to see if this product is eligible for free shipping with a Prime membership:

---
#4: Butterball Oil-Free Electric Turkey Fryer and Roaster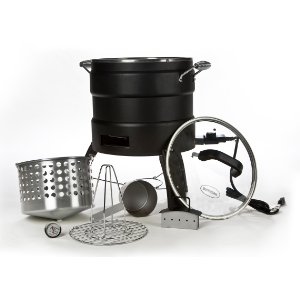 The Butterball Oil-Free Electric Turkey Fryer and Roaster is still affordably priced. It is one of the turkey fryers with the highest rating on Amazon.
This is an indoor turkey fryer so it is light in weight and it surely does not consume too much space in the kitchen. If you are a simple homemaker who serves special dishes for the family, this one's for you.
A Healthier Alternative to Deep Frying
You can cook turkeys of up to 14 pounds inside minus the oil. Isn't this an excellent choice considering its health benefit because of the absence of oil?
The majority of the reviews about the Butterball Oil-Free Electric Turkey Fryer and Roaster guarantee that this oil-less cooker cooks turkey that's moist inside and crispy outside. It is almost the same as the deep-fried turkey, thus, without the oil and calories.
One of the Best Cheap Turkey Fryers
Busy moms can still cook turkey even if there's no special occasion. This is simply because it can cook turkey at roughly ten minutes in every pound. Therefore, a turkey weighing 14 pounds takes only up to two-and-a-half hours to cook completely. This is definitely speedier than any conventional oven.
More Details and Where to Buy this Oil-Less Turkey Roaster
See: Butterball Oil-Free Electric Turkey Fryer and Roaster Review. Or, head over to Amazon and check out this healthy turkey fryer on Amazon today:

Butterball Oil Free Turkey Fryer Features and Results
Do you want to find out more about this turkey fryer for sale? Then check out the short video below to see this oil-free fryer from Masterbuilt in action:
---
#5:  Cajun Injector Deep Fryer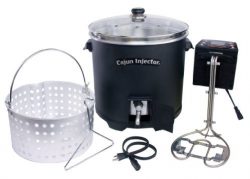 Next up is the Cajun Injector Deep Fryer, an indoor turkey deep fryer designed to fry 12 to 14-pound turkey.
You can also deep-fry other dishes than turkey like seafood and any other meat dish. This comes with a detachable basket making the draining of the oil easier for you. You can do other chores at home while your turkey is cooking as it automatically shuts off when done.
Easy to Use and Clean Cheap Turkey Fryers
Simply set the timer and the digital thermometer will tell you if the heating is right. This turkey fryer also features a swing-out drain valve beneath for easy and simple cleaning.
You don't have to worry about the status of your turkey. The clear lid on top will tell you when the dish is completely cooked or needs more time for cooking. Here's what's amazing with the Cajun Injector Turkey Fryer.
Turkey and other dishes are not the only ones you can cook with this one. You can also enjoy home-brewed beer using this bestseller! A lot of owners of this turkey fryer have already testified that they can boil wort much faster than the stove-top, not to mention its safety when boiling.
Learn more about the Cajun Injector Turkey Fryer
See: Full Review of the Cajun Injector Deep Fryer.
---
#6: Backyard Pro Aluminum Turkey Frying Kit
Another top option to consider is this turkey frying set from Cooper & Co, the Backyard Pro. It comes with everything you need to deep fry a turkey outdoors except the propane tank.
Key Features of the Cooper & Co Fryer
30 quart capacity for the pot
Aluminum cooking pot
Steamer and deep fryer
Powerful 55,000 BTU burner
Requires a propane bottle
Heavy duty, welded stand made from cast iron
CSA certified
Customer Reviews for the Backyard Pro Turkey Fryer
—>Read Customer Reviews for the Backyard Pro Aluminum Turkey Fryer<—
"Worked really well for deep frying a Thanksgiving turkey and for the price, it's an excellent buy. My family loved the turkey and they're already demanding it again next year!"
"Base is nice and sturdy and the burner is powerful enough for my needs. We've now done turkey, chicken and fish on this thing and they all turned out really well. It's perfect for tailgating or camping too when you don't access to your stove."
"The stand is actually quite large and could support a pot that's bigger than 30 qt. Plus, it comes with all sorts of goodies that I'm not sure I'm ever going to use…but they're nice to have I guess! I bought the Cooper & Co set with the aluminum pot, but they also sell one with a more durable stainless steel one."
Where Can I Learn More about It?
Do you want to find out more about this very affordable turkey fryer? Then you'll need to check this out: Backyard Pro Turkey Fryer. 
Or, just head on over to Amazon by clicking the button below. You can check for the best prices and also see if this product is eligible for free shipping with a Prime membership:

---
#7: Camp Chef Universal Output Single Burner  
We love to recommend Camp Chef products here at Kitchen Gadget Reviews. They have a reputation for being of the highest quality and are made from top-notch materials. They're also backed up by great customer support and service.
But what about this universal output burner? It's certainly an option to consider if you have a turkey deep fryer pot and all the accessories you need to fry a turkey already on hand. This makes it a cheap fryer option because you're not buying all these other things that you don't really need. Read on to find out why we like this thing so much.
Important Features of these Cheap Turkey Fryers
30,000 BTUs of power
Low pressure cooking
Includes a cast iron burner and stand
24″ cooking height
Detachable legs for easy storage
Includes hose and regulator but not the propane tank
1 year warranty
Customer Reviews for these Cheap Turkey Fryers
"I wanted to buy a turkey fryer and I decided to go with this single burner option because I already had a large pot that I used for other things. Overall, it works super well and it's sturdy enough that I don't feel nervous about it tipping over. Also seems durable."
"A nice, cheap fryer option for fish, turkey, etc. It's also possible to use this thing for home brewing beer, seafood boils, crab legs or just about any time you're cooking for a crowd."
Shop Now for this Turkey Fryer with Lowest Price
If you're looking for a turkey fryer for sale on the cheap and you already have a suitable pot, then you'll certainly want to consider this option from Camp Chef. It's sturdy, durable and should last you for years. You can find the best turkey fryer prices online so have a look by clicking below:

How Much is a Turkey Deep Fryer?
That's a great question and we're happy that you asked. You may want to know about turkey fryer prices and what exactly you could expect to pay.
In general, you can find a complete turkey deep frying kit for under hundred dollars. There are a number of options on this list here. However, there are some higher-end fryers that can run upwards of $300.
With more money, you get higher quality and more durability. You can expect a stainless steel pot instead of an aluminum one. Or, a cast iron stand instead of a metal one. With the higher price also comes more power which means that your oil will heat up more quickly, and once you put in the turkey, the oil will come back up to the correct temp easily.
Let's sum this up. Turkey fryer prices: expect to spend between $100 and $300! What you decide to do is really up to you. Checks out this comparison chart below for specifics about how much turkey fryers cost.
Compare Turkey Deep Fryers
If you're looking for your first, or next deep fryer for turkey, you're going to want to check out our handy comparison chart below. We have all the top picks for cheap fryers, up to some of the premium, most expensive ones on the market today.
Or, if you already have a pot that's big enough and the other accessories, then just consider a high-pressure burner. The Banjo Burner from Bayou Classic is one of our favourites.
Turkey Fryer FAQs
There are a number of common questions that people have about using turkey fryers. Here are the answers to some of the most popular ones.
What is the Best Turkey Fryer to Buy?
The best turkey fryer to buy depends on a number of factors and your personal preference. Some of the things to consider are price, durability, capacity and whether you want an indoor or outdoor turkey deep fryer.
What Else Can you Use a Turkey Fryer For?
It's possible to use a turkey deep fryer for many other things besides frying turkey. Some ideas include home brewing beer, canning vegetables or fruit, deep frying veggies or meat, or doing something like a bit jambalaya, fish fry or seafood boil.
How Much is a Turkey Fryer?
You can get a cheap turkey frying kit for under $100 USD if you take a look online at a place like Amazon. However, these cheaper ones are sometimes not as durable, nor are they are powerful in terms of BTU output as the higher priced options.
Can you Rent a Turkey Fryer?
If you're going to be cooking for a crowd and need to fry multiple turkeys, it's possible to rent a deep fryer. However, for a small family gathering, it's possible to buy cheap turkey frying kits for a reasonable price so consider this option instead.
What's the Cheapest Oil for Deep Frying?
When you consider the various oil options for deep frying, you'll need to ensure that it has a high smoke point and a neutral flavour. Besides that, price is a consideration when you're frying something as large as a turkey. A cheap, neutral-tasting oil with a high smoke point is peanut oil.
Cheap Turkey Deep Fryers: Have your Say!
What's your top pick for a cheaper turkey fryer? Is it one of the products from this list or, are you opting for one of the higher-priced options? Leave a comment below and let us know your thoughts. We'd love to hear from you.
Also be sure to give this article a share on Facebook, Twitter, or Pinterest. It'll help other deep frying enthusiasts, like yourself find this useful resource.
Last update on 2021-08-05 / Affiliate links / Images from Amazon Product Advertising API