If you're going to deep fry a turkey, then you'll certainly need a top-quality pair of turkey fryer gloves. Deep fryer gloves are useful for numerous reasons, including picking up and maneuvering the hot pot of oil, or even gripping the turkey itself if necessary.
It's not recommended to attempt any of these things with a regular pair of oven mitts, so read on for all the details you need to know about the best turkey frying gloves.
Let's get into all the options for the turkey frying and carving gloves that you'll want to consider so you can do the job safely and efficiently.
Safety First with these Turkey Fryer Gloves!
There's a danger in cooking, especially with deep frying something as large as a turkey. Sometimes, it is not enough that a chef or cook uses a pair of pot holders to protect their hands and fingers.
It is best to wear a pair of special gloves for guaranteed safety and protection while cooking. For many homemakers and cooking enthusiasts, deep-frying is one of the most dangerous ways of preparing meals in the kitchen. That's what our list is here for—to make cooking safe for one all the time.
Let's get into the best gloves for deep frying turkey. Many of them also double as turkey carving gloves as well, which can make the task much easier.
Top 8 Turkey Frying Gloves
Keep on reading for the full review of each of these deep fryer gloves. But, here are a few of our top picks:
Find the Pair of Turkey Fryer Gloves that's Best for You
The gloves we have in this list are all durably made. They are designed to keep the hands from any harm while cooking, specifically deep-frying. We care, not only for the homemakers' safety while cooking, but also for their budget. That is why the pairs that we've included in the list are all affordable.
The No.1, as always, is the cheapest yet still high-quality pair. The No.5, on the other hand is our priciest, and yet it is still worth your money. Read on and find the pair that suits you best.
Related: Deep Fried Turkey Safety
Compare Turkey Deep Gloves
Best Turkey Fryer Gloves
You might be wondering how we decided on the best deep fryer glove? We'll let you know right now!
Our team wants to help you not waste time searching around for the best gloves from all the different manufacturers. We've put the time in to narrow down the choices to the top ones. We included gloves in a wide range of prices to suit just about any budget.
Here's how we picked:
We looked very carefully at the customer reviews on Amazon, particularly the 2,3, or 4 star reviews which often give the best indication of the pros and cons of a certain item.
Then we checked what other bloggers and home chefs were saying online.
Finally, we tested out the gloves for ourselves in a wide variety of situations for a  week at a time.
We then ranked them according to the following factors: value for money, heat resistance, durability, ease of cleaning, and confidence in picking up things with them.
The result? A list that you can feel confident in! So, shop away freely.
#1: GF Pro Bbq Gloves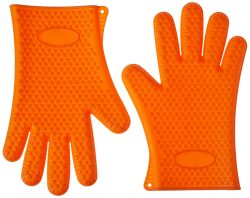 The GF Pro Bbq Gloves is the most affordable in our best turkey frying gloves list. They're made of silicone and they are among the best grill accessories you can ever use.
Undoubtedly heat resistant, these gloves are 100-percent durable. You can handle with ease, extremely hot roasting pans, oven rocks, and even pizza stones. Where they really excel though is as deep fryer gloves.
Baking and Opening Cans too
Additionally, our No.1 is not just for barbecues and grilled dishes. You can also wear them while baking or opening cans and jars that need too much effort.
These are free-size gloves so you need not worry whether your hands are small, medium or big. No matter how hot the food is, you are sure to handle it with these super affordable gloves.
Excellent User Ratings and Reviews for these Turkey Fryer Gloves
These gloves for deep frying turkey have some excellent customer reviews. People mostly comment on how good of a grip they're able to get when wearing these things.
Long Length
You'll definitely love the GF Pro Bbq Gloves especially that they cover your whole hands and even your wrists. Another thing that sets these gloves apart is that, they are waterproof. They keep your hands dry so you can also wear them while washing something hot. If you are an eco-friendly person, you'll definitely love this product. It is FDA approved and it is also BPA free.
Customer Ratings and Reviews
"They run a wee bit small so order the bigger size if in doubt. Besides that, they provide some great heat protection and they're also very durable and easy to clean up after getting some oil or grease on them."
"These turkey frying gloves work for a ton of other things too, and they've actually replaced all oven mitts at my house. They're just so much better because it's easy to get a good grip on things with them. You can also use them to open jars! I like to use them to hold onto the turkey when I'm using a food injector to season it as well."
Shop Online for Them
You can easily purchase the GF Pro Bbq Gloves on Amazon. Check now for the lowest prices and to see if this product is eligible for free shipping with a Prime membership:

#2: Camp Chef Gloves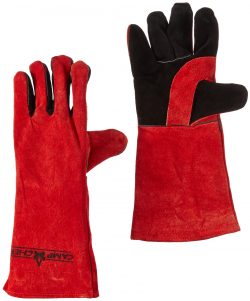 How many times have you burned your fingers or even your hands while preparing the dishes? Aren't your pot holders enough to protect you from very hot pots, pans and casseroles? If you can no longer determine the frequency of burns and you think your pot holders are no longer efficient, now is the time to switch cooking protectors.
Affordable Protection for your Hands
Opt for the Camp Chef Gloves. With such an affordable price, you can make sure of your hands' full protection while cooking.
These Deep Fryer Gloves Work for Any Kind of Cooking
The Camp Chef Gloves are ideal for any kind of cooking. These deep frying gloves are sure to protect your hands from getting burned with their heat resistant feature.
Aside from their attractive appearance, these gloves best for campfires, hot cookware sets and stoves, among others. Also, whatever size you prefer, the Camp Chef Gloves fit you well because they are free size. Deep-fry confidently wearing these durable gloves.
Customer Reviews
"I bought these to use when I go camping for my dutch oven and cast iron frying pan. They work perfectly and I'm no longer scared of burning myself every single time I take these things out of the oven. The best thing is the extra length on them which helps to protect your wrists."
"I'm all about deep frying a turkey every chance I get, but have never really had a great pair of gloves to go with them. That changed when my family gave me these for my birthday! I can't believe I fried so many turkeys without them."
Where to Buy these Turkey Frying Gloves
You can easily purchase the Camp Chef Gloves on Amazon. Click the button below to check for the best prices and to find out if there are any deals that may include free shipping:

#3: Grill Kings Barbecue Gloves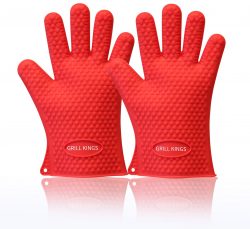 If you belong to a family of grill lovers, and you are always in-charge of the grilling or barbecues, then, the Grill Kings Barbecue Gloves are exactly what you need. Our third choice for gloves for deep frying turkey are full of features. They are made of silicone material so they are flexible and fit all sizes.
Heat Resistant Turkey Fryer Gloves
The heat resistant feature also allows you to hold extremely hot cookware minus all the worries. You need not worry about the possible harm you'd get from these gloves as they are BPA free. This means that handling food is easier with these cooking accessories.
A Bestseller on Amazon
The Grill Kings Barbecue Gloves has some excellent user reviews on Amazon today. Because of this, they have turned a bestseller on the said popular site.
Do you want to be free from the extra time and effort spent for washing the dishes? Then, opt for these gloves. They will spare you from the need of using tongs and forks for your grilled foods. Because of the protection these hand shields provide you don't need the extra cooking utensils to support you.
Easy Cleaning
It is so easy to handle these ones because of the material they are made of. Simply rinse them off using a hose or throw them in the dishwasher or washing machine. You can also grip the deep fried turkey directly, unlike with cloth gloves.
Shop Now
You can effortlessly purchase the Grill Kings Barbecue Gloves on Amazon. Head over there now by clicking below to find out more about one of our top options:


Turkey Frying Safety Tips
If you want to learn how to safely deep fry a turkey, then you'll need to check out this short video below:
#4: Artisan Griller Cooking Gloves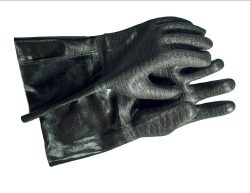 Out next option is the Artisan Griller Cooking Gloves, one of  the highest-rated gloves we found on Amazon. Therefore, these top-of-the-line gloves are also bestsellers when it comes to cooking accessories.
Confidence when Handling Hot Things
These top-quality cooking gloves are perfect must-haves if you want to guarantee protection for your hands and fingers when cooking.  These gloves also fit all sizes. They are easy to wear and take off, as well. Therefore, when you wear the pair, you'll feel more confident handling and holding hot pans and surfaces.
Flame Resistant, as well as Heat Resistant Fryer Gloves
If most of the options you find on this list are heat resistant, the Artisan Griller Cooking Gloves are also flame resistant. Therefore, they are more durable and they promise to protect you doubly. If you are into eco-friendly movement, buying and wearing this pair of gloves is a green move, too.
The gloves are FDA compliant with rubber coating for total protection. They are also waterproof so boiling water and any steamed dish won't ever intimidate you. You can pick up the turkey directly with these gloves, making it the perfect choice for heat resistant gloves for deep frying and cooking.
What People are Saying about these Fryer Gloves
"I'm super happy replacing my old welding gloves with these ones. Mostly, I love the fact that they're waterproof which makes handling smoked brisket and pulled pork so much easier."
"I bought these BBQ gloves based on the excellent reviews but they're even better than I expected they would be. Instead of wrestling big racks of ribs around the grill, I use these gloves and find that they just work so much better. Plus, they withstand high temperatures extremely well."
"One of the best products I've bought from Amazon!"
Where to Buy Them
Hit the button below and purchase the Artisan Griller Cooking Gloves on Amazon:

#5: Frymaster Neoprene Gloves
Next up is one of the most expensive options but they are definitely durable to last for years. Whether it's boiling water, grilled dish or baked pasties that you want to protect your hands from, these gloves are perfect for you.
Extremely Popular Turkey Frying Gloves
When deep-frying, simply wear these and you can make sure of your safety no matter how hot the deep fryer is. This is a highly recommended product so will surely be convinced that the gloves are worth your money. The Frymaster Neoprene Gloves are among the most popular frying gloves brand so you can guarantee an excellent product wearing this.
Excellent Customer Reviews for these Gloves
People that try out these Neoprene BBQ gloves really seem to love them. You can check out some customer reviews for yourself here:
"These things really do work quite well when dealing with hot BBQ items or for hot oil. I've used mine for lots of thing with great results, and I love the fact that they're so easy to clean. I know it may sound crazy, but I use mine to hold the turkey when I'm carving it."
"You may not think this type of glove is necessary and you can just use your regular oven mitts. Don't make that mistake. These things are awesome and way safer for frying."
"Top quality gloves at a reasonable price. And great customer service too. Not much more I could ask for."
Get your Pair of Deep Fryer Gloves on Amazon today
The Frymaster Neoprene Gloves has an impressive rating on Amazon. It is certainly worth the price considering the fact that it shipping is free.
This is a perfect must-have for individuals who are not that confident in cooking. They are for those who have fear of hot objects. Indeed, if hot pans and other cookware pieces are the ones hindering you from cooking, these gloves will definitely take away the hindrance.
You can easily buy the Frymaster Neoprene Gloves on Amazon:

#6: Steven Raichlen Insulated Food Gloves
Steven Raichlen Best of Barbecue Pair of Insulated Food Gloves
Remove hot food directly from the grill
Handle food just off the grill or out of the oven – perfect for pulling pork Light, flexible...
Heat safe to 248 F (120 C)
For food handling only - not intended for hot grills or pans
Reusable, wash with dish soap and hang dry
Another top option for deep fryer gloves at these insulated rubber ones by Steven Raichlen. They have a number of key features that you'll love and there are certainly plenty of reasons to consider them above some of the other options on this list.
Ideal for Food Handling
These gloves are designed for picking up hot food directly off a grill or in this case, using them to handle a deep fried turkey safely. However, please note that they're not for picking up a hot pot. If this is what you're looking for, consider one of the other options.
For example, you may want to hold the turkey while carving it. Or, you may want to have your assistant hold onto the turkey while you pick it up out of the oil with a meat hook. That's where these Steven Raichlen gloves will be like magic for you.
Easy to Clean
These turkey fryer gloves are super easy to clean with mild soap or a dish washing liquid. Rinse well and then hang to dry. The surface material is ideal for getting even heavy grease off of them easily.
User Reviews
"Okay, so these food gloves honestly just make the whole process of frying a turkey so much easier. Those things are slippery and it's ideal to have a nice pair of gloves so that you can really just a get a grip on it and hold on when you're picking it up, moving it around or carving it."
"These are some of the best gloves for deep frying a turkey, or any other cut of meat for that matter. They are durable, insulated enough to not burn your hands plus are flexible so you can maneuver your hands around in them."
Shop Now
Do you want to pick up these highly-rated turkey gloves for your next big Thanksgiving or Christmas feast? It's easy to find them on Amazon so click the button below and don't forget to check and see if they're eligible for fast, free shipping with a Prime membership:

#7: Lodge Leather Outdoor Cooking Gloves for Deep Frying Turkey
Sale
Lodge 18" Leather Outdoor Cooking Gloves - Heat Resistant Gloves for Cast Iron Cooking, Black
LODGE LEATHER GLOVES (18" ). The Lodge Gloves are made of brushed leather, fully lined, and sewn...
A CENTURY OF EXPERIENCE. Lodge has been making cast iron cookware South Pittsburg, Tennessee (pop....
OUTDOOR ACCESSORIES. Lodge outdoor cooking accessories are a great addition to any outdoor culinary...
DURABILITY IN THE DETAILS. Quality is in the details. Lodge utilizes high quality, genuine leather...
Constructed with brushed leather
If you're looking for a pair of turkey gloves that are ideal for picking up a hot, heavy pot off the burner, then you may want to consider the Lodge leather gloves. They are extremely durable and should last you a lifetime of deep frying turkeys.
Ideal for Campfires, Grills or Outdoor Deep Fryers
These gloves are perfect not only for deep frying, but also things like campfires and grills, as well as picking up hot cast iron. They are fully lined, with superior stitching to ensure complete safety for the hands.
Not For Handling Turkeys
These gloves are a safe way to handle, move or pick up the pot that you're frying your turkey in, or to adjust the stand that it's on. However, they are not designed to hold hot food like a deep fried turkey. If that's what your looking for, consider the option above this one for some insulated food gloves.
User Reviews
"I love Lodge cast iron, so I decided to give these gloves a try. They're heavy-duty and I've never felt any heat from picking up anything off the campfire or when grilling or deep frying."
"Super durable and they seem built to last. The stitching is still good as new months later."
Buy Them Today
Do these leather cooking gloves sound like the right turkey glove for your next big frying adventure? They certainly make a nice choice if you want something sturdy and durable enough to last a lifetime. Click the button below to find the lowest prices on Amazon and to check and see if there are deals that may include free shipping:

#8: Geekhom Turkey Fryer and Carving Gloves
Sale
GEEKHOM BBQ Gloves, Grilling Gloves Heat Resistant Oven Gloves, Kitchen Silicone Oven Mitts, Long...
EXCELLENT HEAT RESISTANCE. The oven mitts is made of BPA Free silicone, heat-resistant from...
DUAL-LAYER DESIGN: This BBQ gloves is designed with an outer silicone glove and inner heat-resistant...
LONG SLEEVE and ROPE DESIGN: This cooking gloves is with a long sleeve to protect your wrist and arm...
NON-SLIP DESIGN: Texture on the surface of the waterproof gloves provides a NON-SLIP protection,...
FULL GEEKHOM WARRANTY - Provides 100% no questions asked money back guarantee. If you're not...
If you're looking for a nice pair of turkey fryer gloves that also double as carving gloves, then consider these ones from Geekhom. Keep on reading to find out all the details about why we like them so much.
Waterproof
The fact that they're waterproof makes this one of the best options for carving turkeys. You can use these for lifting the turkey out of the deep fryer and then they double as carving gloves. Get a solid hold of the turkey and protect your hands from the heat.
Extra-long Sleeves
We always prefer longer, as opposed to shorter gloves when dealing with turkey. This is true when you're pulling a hot turkey plan out of the oven, or removing it from the deep fryer. It's vital to protect your forearms from burns too and these fryer gloves do a great job of that.
Customer Reviews
"Super happy with this purchase and they certainly do a nice job of dealing with the heat of a turkey frying pot, or taking things out of my smoker. I've melted a ton of fryer gloves over the years but these ones seem far more durable."
"Great quality gloves with a durable non-slip exterior. The inside is soft and comfortable on the hands. I honestly don't think anyone could have designed a better pair of oil proof gloves for deep frying."
Shop Now
Do you want to pick up these fryer gloves that are also ideal for carving turkeys? Then head over to Amazon by clicking the button below:

Compare Heat Resistant Cooking Gloves
Do you want to see some more of our top picks for deep fryer gloves? You can check them out below:
Turkey Frying Gloves FAQs
There are a number of common questions that people have about turkey frying gloves and turkey carving gloves, as well as deep-frying in general. Here are the answers to some of the most popular ones.
What are the Best Heat-Resistant Gloves?
There are a number of heat-resistant gloves that you might want to consider, depending on your needs. The best glove are long so that your forearms are protected, waterproof so you can do things like carving a deep fried turkey and of course, can withstand a high temperature.
What Kind of Gloves Should you Wear for Grilling and Deep Frying?
The best kind of gloves for grilling and deep frying are made from silicone, Nomex or kevlar. They have a lot of grip, are heat-resistant and can also get wet in most cases. If you only plan on handling dry objects, then leather can also work quite well.
Why do BBQ Chefs Wear Black Gloves?
BBQ chefs wear black BBQ gloves because barbeque is really messy and there's lots of sauce and grease. Black does a great job of hiding the stains than regular gloves do.
Can you Fry a Turkey in the House?
It's possible to fry a turkey in the house with an indoor, electric turkey fryer. Make sure that you have a fire extinguisher handy and be sure to follow all the of the manufacturer's instructions carefully.
Are Silicone Gloves Safe?
Silicone gloves are safe for deep frying or outdoor cooking. They may, or may not come with an inner cotton liner. They are popular for outdoor cooking because they are heat-resistant to some very high temperatures and they also won't catch on fire easily.
Turkey Fryer Gloves: Have Your Say!
What are your thoughts on the best deep fryer gloves? Are you considering one of the options from this list or do you have your eye on another brand? Leave a comment below and let us know. We'd love to hear from you.
Also be sure to give this article a share on Facebook, Twitter, or Pinterest. It'll help other deep frying enthusiasts, like yourself find this useful resource.
Last update on 2021-08-05 / Affiliate links / Images from Amazon Product Advertising API