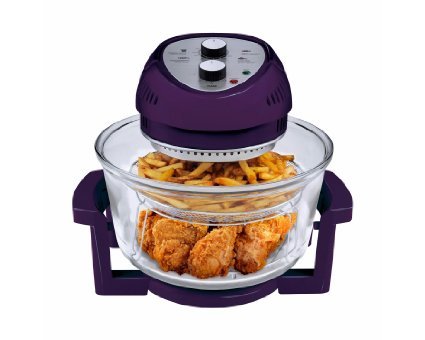 Are you looking for a top-quality air fryer to get that deep fried taste minus all the calories and fat? Then the Big Boss oil-less fryer should be at the top of your list.
Read our buying guide packed with information to help you decide if it's the right choice for your home kitchen.
Big Boss 1300-Watt Oil-Less Fryer Review
The Big Boss 1300-Watt Oil-Less Fryer is a top-quality indoor no oil fryer that is available on Amazon. If you're looking for an indoor appliance that will deliver deep-fried style foods, minus the oil, then look no further than this one!
It's a great fit for most kitchens and can cook almost anything for any meal in style.
3x Faster than a Regular Oven
Foods cook up crispy on the outside and tender, hot and moist on the inside in a short time (3x faster than a regular oven). This oil-less fryer utilizes triple cooking power, including halogen, infrared and convection heat.
Sale
Big Boss Oil-less Air Fryer, 16 Quart, 1300W, Easy Operation with Built in Timer, Dishwasher Safe,...
Enjoy your favorite foods without the added calories! The Big Boss air fryer allows you to fry,...
Simple & easy operation with 2 dials, temperature control, timer with auto shutoff and popular...
The transparent glass bowl is designed to let you see the progress of your food without the need to...
Super Size capacity is expandable up to 16 quarts with the optional extender Ring (included) - large...
Ability to cook two different foods simultaneously with a 2 shelf set - included
Big Enough for Turkeys
It's big enough for turkeys of up to about 15 pounds, but does well with smaller things too like french fries, wings, fish, chicken breasts, vegetables, etc. And it does it all without added oil to make your foods not only delicious, but healthy as well.
Learn more here: What Can You Cook in an Air Fryer?
Designed for Indoor Use
This air fryer runs on electricity and is designed for indoor use only. If you want an outside air fryer, you should check out the Char-Broil Big Easy Oil-Less Fryer.
Shop Now
The Big Boss 1300-Watt Oil-Less Fryer is available on Amazon. Check now for the best prices and also to see if it's eligible for free shipping with a Prime membership:

Big Boss Oil-Less Fryer Review
Key Features:
17 pounds
16 x 13 x 12 inches
Can cook foods from frozen
Triple cooking power technology
3x faster than a regular oven
No oil needed
Crispy outside, juicy inside
2 trays can cook multiple foods at the same time
Uses convection and infrared heat for fast heating and cooking
Ideal for people who want to eat healthier
Mesh racks are easy to clean
Comes with an instruction manual
Big Boss 1300-Watt, 16-Quart Oil-Less Fryer Reviews: 
—>Read More Customer Reviews and Ratings Here<—
"It cooks large items very well, including whole chicken. It uses less energy than an oven, and way less oil than a normal fryer."
"It makes nice chicken without all the oil-crispy on the outside and tender on the inside. It's a good alternative to fryers that use oil in terms of health, but also for saving some money."
"This simple convection oven can cook just about anything including desserts. I can't even count how many times I've been so thankful to have this thing sitting on my counter. We use it almost every single day! It's certainly saved my butt."
"It cooks meat, and veggies with minimal fuss, hassle or clean-up. My family uses this thing just about every single day and we love it. The main thing is that is just works well without any hassle."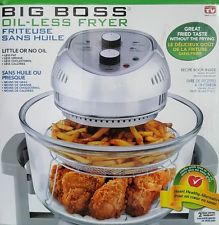 Big Boss 1300-Watt Oil-Less Fryer Negatives: 
Foods don't taste like traditional deep-fried ones
Quite large-not practical for small kitchens without a lot of counter space
Very short power cord
There are some people who wish it had a bigger cooking capacity
Some reports that it doesn't actually cook things any faster than a regular oven
The Takeaway on the Big Boss 1300-Watt Oil-Less Fryer: 
If you're looking for an indoor fryer that can cook turkeys, other meats as well as vegetables and desserts, the Big Boss 1300-Watt Oil-Less Fryer makes a nice choice. Let the Big Boss do the hard work for you and just go relax before dinner, okay? It's so easy to use that it's almost set the timer and forget about it.
Ideal for Bigger Cuts of Meat
In particular, reviewers mentioned that it produces some excellent results with bigger cuts of meat like pork or beef roasts and small-medium turkeys. Most air fryers can't handle anything as large as this.
Not Exactly that Fried Taste…
There are some negatives reviews on Amazon, but they appear to be mostly due to unrealistic expectations. Of course the food isn't going to taste the same as deep-fried when you don't use oil!
However, it's certainly crispier and juicier than cooking something in the oven. The high temperatures from the infrared heat, combined with convection air flow allow for this.
No Oil Needed
But, what this machine can do is turn out food that is crispy on the outside and moist on the inside with a minimal amount of extra oil added. It would be helpful to think of this machine as more of a convection oven than a deep-fryer.
Where Can I Buy It?
This top-quality kitchen appliance is available on Amazon and often has fast, free shipping with Amazon prime.
There really are not a lot of reasons why you wouldn't want to have one of these things in your kitchen! Dinner will be ready in minutes, cooked to perfection.

How to Cook Chicken in the Big Boss Oil Free Deep Fryer
Big Boss Oil Less Fryer Recipes
There are a number of things you can cook in your Big Boss Fryer. Here are links to some of the top recipes you might want to consider trying out:
Big Boss Air Fryer Recipe Book (from the company)
Oil-Less Fryer Recipes (from the Doctors)
Big Boss Recipes (from Pinterest)
Have your Say about the Big Boss Oil-Free Air Fryer
What are your thoughts about this oil-less fryer? Leave a comment below and let us know what you think. Does it sit on your counter basically all the time?
Also be sure to give this article a share on Facebook, Twitter, or Pinterest. It'll help other people interested in healthier cooking, like yourself find this useful resource guide.
Last update on 2019-08-20 / Affiliate links / Images from Amazon Product Advertising API