Are you looking for a top-quality outdoor propane cooker? Then this high-pressure gas cooker from Bayou Classic should be at the top of your list. It comes from one of the most trusted names in Outdoor cooking and also has some excellent customer reviews.
Read our buying guide for the Bayou Classic High-Pressure Gas Cooker, packed with information to help you decide if it's the right choice for you.
Bayou Classic High-Pressure Outdoor Gas Cooker Review
The Bayou Classic High-Pressure Outdoor Gas Cooker is a top-rated outdoor propane cooker. If you're looking for a steel frame along with all the hoses and attachments to fit onto a propane bottle big enough to support a deep-fried turkey in a large pot, this Bayou Classic Outdoor Gas Cooker makes an excellent choice.
It's also the ultimate for tailgating or camping, when you want to cook up enough delicious food for a whole party to enjoy!
Fully Adjustable Flame
The flame is adjustable which means you can heat up and maintain the oil at any temperature you wish. This is ideal if you're planning on cooking things beyond turkey—chicken, fish, other meat, veggies, or even home-brewing.
Includes a Windscreen
The set also includes a 360 degree windscreen so you can use it even if conditions aren't 100% ideal. Imagine all those sad faces in your family if you told them that you couldn't deep-fry turkey this year because it was a little bit windy?!
Pot Not Included
Please note that this outdoor cooking set doesn't include the pot which will be necessary to make a deep-fried turkey, or other deep-fried meats. We recommend this Stainless Steel Pot which will work perfectly along with this kit.
Where Can I Find It?
You can easily get this top-quality high-pressure outdoor gas cooker on Amazon today. Click the button below to check for the lowest prices and also to see if this product is eligible for free shipping with a Prime membership:

The Features You'll Love: 
Includes stand, windscreen, and all necessary hoses and attachments to hook up to your propane tank
13-inch height provides a low-center of gravity
For use with pots of up 100 quarts
18 x 18 x 13 inches
14 pounds
Adjustable high pressure flame powerful enough for deep frying, or gentle enough for stews and soups
10 psi regular allows for high BTU output
48 inch braided steel hose
Welded steel frame for a stable cooking surface
14 inch diameter cooking surface
Made in the USA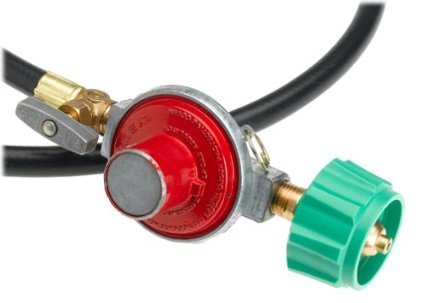 What People are Saying About It: 
—>See More Customer Ratings and Reviews Here<—
"This outdoor deep fryer puts out a lot of power, even if it's a little bit noisy. The stand is reasonably stable—better than some of the cheap turkey frying kits I've tried. It seems like it takes basically no time at all to heat up an entire pot of oil—quite impressive! "
"This propane fryer with high pressure flame is perfect for home-brewers. It cuts my brew time in approximately half."
"It's very cute and small with no assembly required. Just hook up to your propane tank and get that turkey deep-frying. I already had a big stainless steel pot so I didn't need a kit, or all those other accessories. Perfect for my needs and I'd definitely recommend this to anyone looking to get into outdoor cooking."
"It does an excellent job of deep-frying turkey in a really short amount of time. My family loves this propane cooker and I have to admit, it's really fun to do some outdoor cooking. Well, actually they probably love to eat the results most of all!"
How to Assemble the Bayou Classic SP10:
Do you want to find out how to set-up your new high pressure outdoor gas cooker from Bayou Classic? Then check out this short video below for all the details that you need to know:
Compare Turkey Deep Fryers
Besides this one from Bayou classic, there are a number of options choices on the market today for how to deep fry a turkey, including both indoor and outdoor ones. For all the top picks, you'll want to check out our best deep fryers. Or, take a look at this handy comparison chart below:
What Can I Use the Bayou Classic Sp10 For? 
That's a great question and we're happy that you asked. Besides deep frying turkey, there are a number of other reasons why you might consider using this outdoor cooker. Some of them include:
Whole chickens or other cuts of meat
Seafood boils
Peanuts
Low country boils
Soups, stews or jambalaya
Crab, shrimp or Crawfish (steaming or boiling)
Home brewing beer
Etc.
The sky really is the limit, so get creative and get your cooking on! It's the ideal outdoor fryer and cooker for tailgating, backyard parties, camping and more. Any time you want to cook, but won't have access to electricity, take this thing with you! It's super easy to set up and you'll have a powerful flame in no time.
Bayou Classic High-Pressure Outdoor Gas Cooker Negatives: 
Some reports that it's difficult to adjust the strength of the flame
Not as powerful as expected
Difficult to keep lit on low or medium heat with even a slight wind
It's not the entire kit for deep frying a turkey, so don't buy it expecting this!
I Want to Deep Fry a Turkey, What Else Do I Need Besides the SP10?
Okay, so you've got your Bayou Classic SP10 High Pressure Gas Cooker. Now, what else do you need if you want to deep fry a turkey? Here's a quick list of the equipment:
Propane tank (fill it up before getting started)
Turkey Frying Pot (aluminum or stainless steel, at least 25 quarts)
Meat hook, drain basket, or some other way to get the turkey out of the pot
A timer of some kind
A tray to put the cooked turkey on (not the same as the one the raw turkey was on!)
Tin foil for when you allow the turkey to rest
As far as the food things you need, here's a quick list for you:
The turkey (obviously!)
Turkey Rub or other seasoning
Oil (most people use peanut oil because of the high smoke point, and cheaper price)
The Takeaway on the Bayou Classic High-Pressure Outdoor Gas Cooker: 
The Bayou Classic High-Pressure Outdoor Gas Cooker is a serious performer at a reasonable price. It excels at deep-frying turkeys, making large pots of soup or stew or in home-brewing beer. Bayou Classic is one of the most trusted names when it comes to deep frying, the Southern way!
Easy Set-Up
It puts out a lot of power and the stand is sturdy and well-constructed, sitting very low to the ground to prevent any accidents. No assembly is required and you can simply hook up to a propane bottle, put your pot on the stand and start cooking!
Fully Adjustable Flame
Perhaps the best thing about this outdoor deep fryer is that the flame is fully adjustable. It puts out enough power to deep fry anything, including a 20 pound turkey.
Or, you can also turn it very low to cook at big pot of chilli without burning it on the bottom. It really is that easy!
Where to Buy this Outdoor Gas Fryer
If you're looking to deep fry your next Thanksgiving turkey, look no further than this highly-rated outdoor gas cooker. You can get it easily on Amazon today. Click the button below to learn more and also to check for the best prices:

It's delicious home cooking made easy with Bayou Classic and it's one of our top-rated appliances here at Love Deep Fried Turkey.
Are there Other Outdoor Gas Deep Fryers to Consider?
If you're looking for a Bayou Classic High Pressure Cooker, you have a number of other options to consider besides the SP10. Why stick with Bayou Classic?
Well, there are certainly other brands available for this style of outdoor gas fryer. However, Bayou Classic is the best in the business and has a reputation for making the most powerful, and also most durable ones.
Here are some of our favourites:
Review of the Bayou Classic SP10 Gas Cooker
Do you want to see another take on the Bayou Classic Outdoor Gas Cooker? Then check out this short video below for all the details you need to know:
Have your Say about this Outdoor Propane Cooker!
What are your thoughts about this outdoor gas deep fryer from Bayou Classic? Is the right outdoor gas cooker for you, or are you considering another brand? Leave a comment below and let us know your thoughts. We'd love to hear from you.
Also be sure to share this review on Pinterest, Facebook, or Twitter. It'll help other outdoor cooking enthusiasts, like yourself find this useful resource.
Last update on 2021-08-05 / Affiliate links / Images from Amazon Product Advertising API