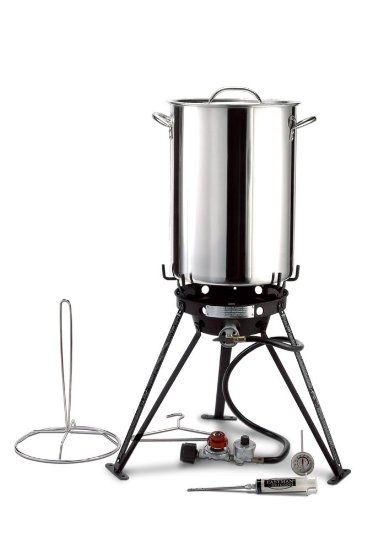 Are you looking for a top-quality stainless steel outdoor fryer? Then the Eastman Outdoors Turkey Fryer should certainly be at the top of your list. There are a ton of things to love about it.
Read our buying guide, packed with information to help you decide if it's the right choice for you.
Eastman Outdoors Stainless Steel Outdoor Cooking Set Review
The Eastman Outdoors Stainless Steel Outdoor Cooking Set is a serious machine for those who like to deep fry turkeys and other meats outside. Running on propane, it's intended for outdoor use only. It includes everything you need to fry turkeys or other large cuts of meat except the propane tank.
This outdoor turkey fryer is one of the best that money can buy-but is it worth the hefty price-tag? Keep reading to find out!
Top-Quality Stainless Steel Pot
What really sets apart the Eastman Outdoors Stainless Steel Outdoor Cooking Set from the competition is the quality- the stainless steel pot is extremely durable, unlike some of the thin aluminum ones and it will last you for years. Stainless steel pots are used in restaurants and other commercial kitchens because they are easy to clean and will stand up to some serious wear and tear.
Serious Power- 65,000 BTUs
This turkey deep frying kit from Eastman Outdoors puts out an extremely powerful 65,000 BTUs of power, meaning that it will heat your oil up very quickly and not struggle to maintain the correct temperature.
The speed at which the oil heats up is one of the serious advantages to deep frying a turkey outdoors vs. indoors. Propane deep fryers are far more powerful than the electric indoor ones, which is amazing if you are not so organized on that busy holiday day!
Safety Shut-Off Feature
This Eastman Outdoors Frying Kit also includes a safety shut-off feature which is useful if you happen to forget to shut the machine off after taking your turkey out. It's obvious that this company is serious about safety and the whole turkey fryer has been designed with this in mind.
Related: Deep Fried Turkey Safety
A Complete Outdoor Turkey Frying Kit
This outdoor deep frying kit includes a stand, 65,000 BTU fuel-saving burner, pot + lid, poultry stand, lift hook, thermometer and marinade injector. In short, everything you could possibly need to deep fry some delicious turkey! Crisp on the outside and moist and delicious on the inside. You can cook a small-medium turkey in this thing in under an hour!
Get this Eastman Outdoors Turkey Frying Set
You can easily get this top-quality outdoor deep fryer on Amazon today. Click the button below to check for the best prices, and also to see if this product is eligible for free shipping with a Prime membership:

The Specs of the Eastman Turkey Fryer:
65,000 BTUs of power
Runs on propane (outdoor use only)
Includes everything you need to deep fry turkeys except the propane tank.
Made of high-quality stainless steel
Safety shut-off feature
13 x 13 x 18 inches
19 pounds
Free shipping with Amazon Prime
2 years additional warranty available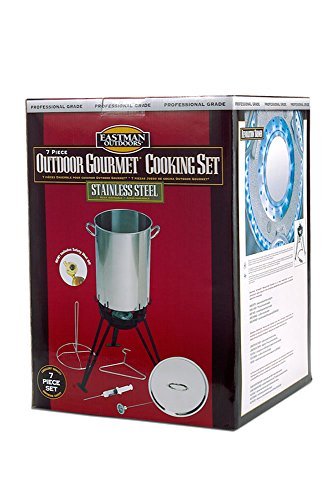 People that Like the Eastman Outdoors Stainless Steel Outdoor Cooking Set are Saying: 
—>Read More Customer Reviews on Amazon<—
"Setting it up took a few minutes, but the rest was easy, including the clean-up. It's obvious that this thing is a top-quality product, unlike some of the cheap turkey frying sets that I've seen over the years. It'll last for years and I've used it at least 10 times already and it still looks and runs like it's brand new."
"We'll never bake another turkey at our house again. This thing is amazing and I can't believe I didn't figure out about deep-frying turkeys before this. My family and friends love how the turkey tastes when it's cooked in this thing. Plus, you can do a bunch of other things in this fryer too, including seafood boils, homebrewing beer, or fish fries."
"It's a little bit expensive, but you get what you pay for. This is a high-quality product, especially the stainless steel pot. The stand is super-sturdy as well, which makes it a lot safer to deep fry a turkey. Putting it together is easier and less intimidating than you might think—the directions are laid out well and are step-by-step."
Eastman Outdoors Stainless Steel Outdoor Cooking Set Negatives: 
More expensive than other turkey fryers
Some reports of missing pieces needed for the stand assembly
Eastman Outdoors Gourmet Cooking Set
Learn more about outdoor cooking products from Eastman Outdoors in this short video below:
The Takeaway on the Eastman Outdoors Stainless Steel Outdoor Cooking Set: 
If you're looking for an outdoor cooking set that runs on propane to deep fry turkey, this Eastman Outdoors Set is a nice choice. The pot is top-quality stainless steel and should last you for years.
Some reviews of the cheaper sets mention thin pots that cracked or had holes in them after only a couple of uses. This shouldn't be a problem with this Eastman turkey fryer. Clean-up is also really easy with stainless steel, as opposed to some of the cheaper pots where it can be difficult to completely get rid of the oil film.
The Price: is it Worth it?
The main drawback of the Eastman outdoor turkey fryer is the price. The Eastman Outdoors Stainless Steel Outdoor Cooking Set is more expensive than most other kits. But, you get what you pay for and the Eastman turkey fryer should last you for years!
Where Can I Find It?
You can get the Eastman Outdoors Stainless Steel Outdoor Cooking Set on Amazon. Click the button below to find out more about this popular turkey frying set:

Compare Turkey Frying Sets
Besides this one from Eastman Outdoors, there are a number of top options for frying kits on the market today. You can see some of our top choices below:
Have your Say about this Stainless Steel Outdoor Deep Fryer
What are your thoughts about this Eastman Outdoors turkey fryer review? Is it the right brand for you, or are you considering another option? Leave a comment below and let us know what you think. We'd love to hear from you.
Also be sure to give this article a share on Twitter, Facebook, or Pinterest. It'll help other turkey frying enthusiasts, like yourself find this useful resource.
Last update on 2019-08-20 / Affiliate links / Images from Amazon Product Advertising API