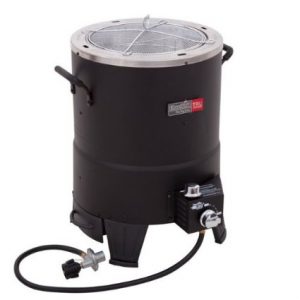 Are you looking for a top-quality air fryer that runs on propane and is for outdoor use? Then the Char-Broil Big Easy should be at the top of your list. Read our buying guide packed with information to help you decide if this turkey fryer is right for you.
Char-Broil Big Easy No Oil Turkey Fryer Review
The Char-Broil Big Easy No Oil Turkey Fryer is a best seller on Amazon for outdoor turkey fryers and for good reason! It's one of the few outdoor air fryers on the market today. The good news is that it really is quite good and has some excellent customer reviews.
8-10 Minutes Per Pound
It's a serious machine that will safely fry up your turkey without any oil. It just takes 8-10 minutes per pound and can work for large cuts of meat of up to 16 pounds, not just turkey but roasts and other cuts of meat too. Your meat will turn out juicy, crispy and full of flavour, every single time.
Sale
Char-Broil Big Easy Oil-less Liquid Propane Turkey Fryer
Oil-less Turkey Fryer offers a healthier way to cook
Powered by Char-Broil TRU-Infrared cooking technology delivering juicy results inside and a crispy...
Prepare perfect whole turkeys, chicken, or roasts up to 16 pounds
No hot oil to burn, splatter, or spill- save money and stress without having to purchase or dispose...
Includes cooker, cooking basket with lifter, meat thermometer, lid and quick start cooking guide
Outdoor Use Only
It runs off of propane and is for outdoor use only. Please don't try to use this machine indoors. It's a serious safety hazard, and there are many top picks for indoor air fryers available.
Shop Now
You can easily get this top-quality kitchen appliance on Amazon today and shipping is free with Amazon prime:

The Specs:
Patented infrared cooking technology (no oil)
Can inject marinades or add spice rubs on the outside of the meat
Only for cooking outside
Includes cooker, basket, lifter, thermometer and a cooking guide
25 inches high, 21 inch diameter
Weighs 30 pounds
Catches all the juices for basting or gravy
Seals the juices inside for moist, delicious turkey
Much safer than frying with oil
Runs off of propane (tank not included)
Can cook lots of things in an air fryer besides turkey
Cooking Turkey on the Char Broil Big Easy
People that like the Char-Broil Big Easy No Oil Turkey Fryer are Saying: 
—>Read More Customer Reviews and Ratings Here<—
"It's so easy to use and clean-up is a breeze. I'm not sure why everyone isn't using this to fry turkeys. It's healthier, plus I love that I can catch the dripping to make gravy, or use wood chips as well."
"I love this thing. I'm excited to start trying other things besides just turkeys including chicken, duck and other cuts of meat."
"The skin on my turkey was crispy and delicious, but the meat was really moist. My family raves about my turkeys these days and keeps asking when I'm making another one!"
"I've used it for a ton of different meats (pork, chicken, lamb, beef, sausages, etc.) and has excellent results every time. Get creative and the sky is the limit!"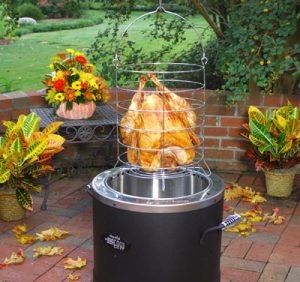 Negatives of the Char-Broil Big Easy No Oil Turkey Fryer:
A few reports of poor customer service from the company
Some reports that bigger turkeys didn't turn out well (perhaps due to improper set-up?)
Compare Turkey Fryers
Besides this outdoor one that doesn't need oil, there are plenty of options for turkey fryers, ranging from indoors to outdoors and oil, or no-oil. You can check out some of our top picks here:
Or, take, a look at this handy comparison chart below:
The Takeaway on the Char-Broil Big Easy No Oil Turkey Fryer:
Although there are a few negatives reports, the vast majority of customers are extremely happy with this outdoor turkey fryer.  If you're looking for an outdoor turkey fryer that runs on propane and doesn't use oil, then look no further than this one.
Why Cook a Turkey Outside?
There a number of reasons why you might want to fry a turkey outside instead of cooking it in the oven. First of all, it usually takes less time. Secondly, it frees up oven space for desserts or side dishes.
Among the outside turkey fryers, most of them use oil. Not only is this unhealthy, but it can also be quite expensive and difficult to clean up after. Plus, safety is always a concern when you have a big vat of boiling oil on a flimsy stand!
That's why it makes sense to opt for something like the Char Broil Big Easy Oil-Less Fryer.
Shop Now
You can easily get this top-quality turkey fryer on Amazon. Check now for the best prices and whether or not this product is eligible for free shipping with a Prime membership:

Dr. Pepper Ribs on the Char-Broil Oil-Free Fryer
Have your Say about the Char Broil Big Easy Turkey Fryer
What are your thoughts about this oil-free turkey fryer? Leave a comment below and let us know.
Also be sure to give this article a share on Facebook, Twitter, or Pinterest.
Last update on 2019-05-27 / Affiliate links / Images from Amazon Product Advertising API