Are you looking for a top-quality air fryer that runs on propane and is for outdoor use? Then the Char-Broil Big Easy should be at the top of your list. Read our buying guide packed with information to help you decide if this turkey fryer is right for you.
Char-Broil Big Easy No Oil Turkey Fryer Review
The Char-Broil Big Easy No Oil Turkey Fryer is a best seller on Amazon for outdoor turkey fryers and for good reason! It's one of the few outdoor air fryers on the market today. The good news is that it really is quite good and has some excellent customer reviews.
8-10 Minutes Per Pound with the Big Easy Oil-Less Turkey Fryer
It's a serious machine that will safely fry up your turkey without any oil. It just takes 8-10 minutes per pound and can work for large cuts of meat of up to 16 pounds, not just turkey but roasts and other cuts of meat too. Your meat will turn out juicy, crispy and full of flavour, every single time.
Sale
Char-Broil Big Easy Oil-less Liquid Propane Turkey Fryer,Silver/Black, 16.3 x 20.8 x 23.5 inches
Oil-less Turkey Fryer offers a healthier way to cook
Powered by Char-Broil TRU-Infrared cooking technology delivering juicy results inside and a crispy...
Prepare perfect whole turkeys, chicken, or roasts up to 16 pounds
No hot oil to burn, splatter, or spill- save money and stress without having to purchase or dispose...
Includes cooker, cooking basket with lifter, meat thermometer, lid and quick start cooking guide
Outdoor Use Only
It runs off of propane and is for outdoor use only. Please don't try to use this machine indoors. It's a serious safety hazard, and there are many top picks for indoor oil-free fryers available.
A Healthier Way to Cook Food
If you're looking for that delicious taste, crispy on the outside, but moist and juicy on the inside, minus all the fat and calories, then you're going to love this oil-less turkey fryer. It's one of the best on the market today and while similar to indoor fryers, it's the only one big enough to handle a turkey, or other large cuts of meat.
Save money and hassle to by not using oil. Plus, it's safer than boiling your turkey in a pot of oil on a small stand!
Powerful Infrared Heat
One of the things we love best is how quick and easy it is to cook with this thing. It heats up very quickly, stays at the correct temperature effortlessly and uses less propane than you might think.
It works by using powerful, 16,000 BTU burners that produce infrared heat. This allows for even cooking, every single time.
Can Use Marinades or Rubs
When you deep fry a turkey, it has to be completely free of moisture or it will splatter and potentially explode! You can consider using a turkey rub, but this often gets kind of "washed" away in the oil. In reality, most of the flavour comes from the fat.
However, with the big easy infrared cooker, you can inject marinades safely, or use a rub of some kind. It's an ideal way to have a flavourful turkey for your next holiday feast!
Shop Now
You can easily get this top-quality kitchen appliance on Amazon today and shipping is free with Amazon prime:

Key Features:
Patented infrared cooking technology (no oil)
Can inject marinades or add spice rubs on the outside of the meat
Only for cooking outside
Includes cooker, basket, lifter, thermometer and a cooking guide
25 inches high, 21 inch diameter
Weighs 30 pounds
Catches all the juices for basting or gravy
Seals the juices inside for moist, delicious turkey
Much safer than frying with oil
Runs off of propane (tank not included)
Can cook lots of things in an air fryer besides turkey
Cooking Turkey on the Char Broil Big Easy
What's Included with the Charbroil Big Easy?
In the box, you can find the following things:
Cooker
Cooking basket with lifter
Meat thermometer
Lid
Quick start cooking guide
If you upgrade to the kit, you'll also get:
4 boneless rib hooks
2 leg racks
6 rib hooks (easy out)
8 skewers
Easy load kebab holder
Basket lifter
All these accessories are made from stainless steel and are dishwasher safe.
You may also want to consider buying a cover. It makes an easy way to store your device and keep it safe from moisture or dust.
Here are some of the accessories that you may want to consider:
How Does an Oil Less Turkey Fryer Work?
Okay, so you may be used to cooking your Thanksgiving turkey in the oven, or perhaps you've even tried frying it in oil. This no oil turkey fryer is quite different from either of those things. How does it work? Let's find out!
The device is designed to eliminate both hot and cold spots. It's give you great results, every single time.
The 16,000 BTU burners are fuelled by propane and are fully enclosed a double-wall cylindrical cooking chamber. This generates the infrared heat source which penetrates the heat and seals in the juices. It's actually quite simple, but the results are excellent!
All you'll need is a standard propane bottle with regulator to hook up this unit.
People that like the Char-Broil Infrared Turkey Fryer are Saying: 
—>Read More Customer Reviews and Ratings Here<—
"It's so easy to use and clean-up is a breeze. I'm not sure why everyone isn't using this to fry turkeys. It's healthier without all the grease, plus I love that I can catch the dripping to make gravy, or use wood chips as well."
"I love this thing. I'm excited to start trying other things besides just turkeys including a small bird like chicken, duck and other cuts of meat. It produces a nice, even heat at the exact right temperature. Ignition is simple, and I love the drip tray too."
"The skin on my turkey was crispy and delicious, but the meat was really moist. My family raves about my turkeys these days and keeps asking when I'm making another one! The main use it for turkey, but in reality, you can cook a ton of different things with it any time of the year. All the food turns out great."
"I've used this oil-less turkey fryer for a ton of different meats (pork, chicken, lamb, beef, sausages, etc.) and has excellent results every time. Get creative and the sky is the limit!"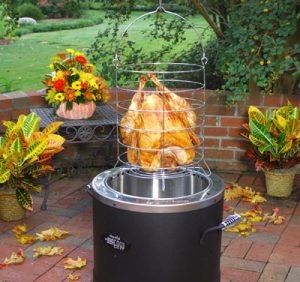 Negatives of the Big Easy Fryer:
A few reports of poor customer service from the company
Some reports that bigger turkeys didn't turn out well (perhaps due to improper set-up?)
Not easy to find in the store
Very hot if you get too close to it
How to Cook a Turkey in an Oil Less Fryer
Cooking a turkey in the Big Easy Turkey Cooker is easier than you might think. Here are a few of the steps you'll need to follow:
Ensure that your turkey is fully thawed (may require 1-2 days)
Prepare the turkey as normal by removing the giblets, plastic ties and wrap, etc.
Apply dry rub to the outside, and then apply between the skin and the meat on the breast and leg/thigh area
Spray or brush oil on the outside
Truss the legs and place the turkey with legs down on the basket
You can oil the wire basket to prevent sticking
Insert a meat thermometer into the breast and leave it where it's easy to read
Turn your no oil turkey fryer to medium-high
Cook until the internal temperature is at the required mark (see below)
Turn off the cooker and remove the basket
Allow the turkey to rest 15-20 minutes before carving
Remove it from the basket, carve it and then enjoy!
Compare Turkey Deep Fryers
Besides this outdoor one that doesn't need oil, there are plenty of options if you want to deep fry a turkey, ranging from indoors to outdoors and oil, or no-oil. You can check out some of our top picks here:
Or, take, a look at this handy comparison chart below:
The Takeaway on the Char-Broil Big Easy No Oil Turkey Fryer:
Although there are a few negatives reports, the vast majority of customers are extremely happy with this outdoor turkey fryer.  If you're looking for an outdoor turkey fryer that runs on propane and doesn't use oil, then look no further than this one.
Why Cook a Turkey Outside?
There a number of reasons why you might want to fry a turkey outside instead of cooking it in the oven. First of all, it usually takes less time. Secondly, it frees up oven space for desserts or side dishes.
Among the outside turkey fryers, most of them use oil. Not only is this unhealthy, but it can also be quite expensive and difficult to clean up after. Plus, safety is always a concern when you have a big vat of boiling oil on a flimsy stand!
That's why it makes sense to opt for something like the Char Broil Big Easy Oil-Less Fryer.
Shop Now for the Big Easy Turkey Cooker
You can easily get this top-quality turkey fryer on Amazon. Check now for the best prices and whether or not this product is eligible for free shipping with a Prime membership:

Dr. Pepper Ribs on the Char-Broil Oil-Free Fryer
Do you want to check out another one of our favourite Charbroil Oilless Turkey Fryer recipes? Then you'll want to watch this short video below to find out how to make some delicious ribs:
Char Broil Big Easy Recipes
If you're looking for some recipes for your Char Broil Infrared Turkey Fryer, then you've come to the right place. Here are some of our favourites:
Southern Thanksgiving Turkey on the Big Easy
The Big Easy Fryer Cookbook (Contains 47 delicious recipes)
Big Easy Turkey Fryer Recipes (100 recipes on Pinterest)
Char Broil Big Easy FAQs
There are a number of common questions that people have about using this popular oil-less turkey fryer. Here are the answers to some of the most popular ones.
What is a Char Broil Big Easy?
A Char Broil Big Easy is an outdoor turkey cooker that relies on infrared heat and doesn't require any oil. It's a delicious, safe and simple alternative to deep frying, and this option also makes it far healthier.
How Many Minutes Per Pound in the Char Broil Big Easy?
To cook a turkey in the Char Broil Big Easy, you'll need 9-10 minutes per pound. However, this is only a rough guide and you should use a turkey thermometer to check the internal temperature frequently during the last minutes of the cooking process.
How Long Does it Take to Cook a Turkey with the Big Easy Fryer?
For cooking time, a turkey will take 8-10 minutes/pound. Therefore a 15 pound turkey will take 2 hours, or just a bit longer than that. Be sure to check the internal temperature to know for sure when it's done. And remember to add in about 20 minutes of time at the end for your turkey to rest before cutting.
You'll want to cook it to 165 F for the breast meat, and 180 F for the dark meat. However, you can remove it from the fryer when it's slightly below that because it will continue to cook outside the oven.
According to the company, the Char Broil Infrared turkey fryer cooking time per pound is 10 minutes. However, they caution to monitor things closely for the last 20 minutes in order to not vercook your turkey.
How Hot Does the Charbroil Big Easy Get?
Some infrared cookers can get as hot as 900 degrees F. However, the Charbroil Big Easy has a maximum temperature of around 575 degrees F. This is enough to cook anything in short order and you certainly don't need a device at that higher range.
Have your Say about the Char Broil Big Easy Turkey Fryer
What are your thoughts about this oil-free turkey fryer? Is the Charbroil Greaseless Fryer the right one for you? Or, are you considering another brand or style of deep fryer? Leave a comment below and let us know. We'd love to hear from you.
Also be sure to give this article a share on Facebook, Twitter, or Pinterest. It'll help other foodies, like yourself find this useful resource guide.
Last update on 2021-08-05 / Affiliate links / Images from Amazon Product Advertising API