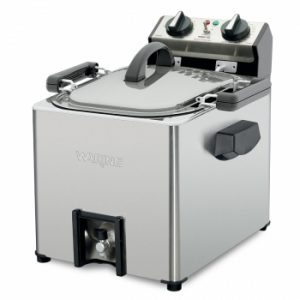 Are you looking for a top-quality indoor turkey fryer? Then this one from Waring Pro should be at the top of your list. Read our buying guide packed with information to help you decide if it's the right one for you.
Waring Pro Rotisserie Turkey Fryer Review
The Waring Pro Rotisserie Turkey Fryer is a top-rated fryer on Amazon. It's a powerful, 1800-Watt machine capable of cooking up to an 18-pound turkey at approximately 3.5 minutes per pound. That means a 17-18 pound turkey will cook in about an hour, far faster than it would in a conventional oven.
Electric Fryer Designed for Indoor Use
The Waring Pro Turkey Fryer runs on electricity and is designed for indoor deep-frying. This is ideal for cooler climates, and also if you want to free up oven space during that big holiday feast.
If you live in a place with snow and cold temperatures, you certainly wouldn't want to do be doing outdoor deep frying, right? That's why it makes sense to opt for one of these indoor fryers like the Waring Pro one.
Waring Pro TF200 Professional Rotisserie Turkey Fryer/Steamer
Holds up to an 18 pound turkey; cooks at approximately 3-1/2 minutes per pound.
1800-watt heating element; 120-minute timer
2.5-gallon stainless steel reservoir
Aluminum frying/rotisserie basket; rotisserie function uses 1/3 less oil
Limited Five Year Motor Warranty
Uses 1/3 Less Oil
One unusual feature of this turkey deep fryer as compared to other models on the market is the rotisserie feature, which means that you can use 1/3 less oil than with traditional deep fryers. Same deep-fried deliciousness with less oil? Don't mind if I do!
You can save a ton of money if you fry a turkey regularly by not having to use as much oil. Love it? We sure do and it's for this reason that this indoor fryer is one of our top recommendations.
Shop Now for the Waring Turkey Fryer
This top-quality Waring Pro Rotisserie Turkey Fryer is easy to buy on Amazon. Check now for the best prices and deals that include free shipping:

The Specs on the Waring Digital Rotisserie Turkey Fryer:
1800 Watts of power
Runs on electricity (for indoor use)
Cooks turkeys up to 18 pounds (in approximately 1 hour)
Unique rotisserie feature reduces the need for so much oil
120 minute timer
20 x 20 x 23 inches
29 pounds
Power and ready to use indicator lights
Stainless steel vented lid
Waring Turkey Fryer Review
People that Like the Waring Pro Rotisserie Turkey Fryer are Saying:
—>See More Customer Reviews and Ratings Here<—
"The Waring digital rotisserie turkey fryer is very easy to set-up and use. Almost anyone can cook up some delicious turkey with this thing. I tried it for the first time a few years ago and my family wants it again every single family holiday!"
"It does a great deep-fried turkey and it can also steam large amounts of veggies. Great for big family gatherings where space in the oven and on the stovetop is a bit of an issue.."
"The best turkey I've ever had with this indoor rotisserie turkey fryer! It was really crispy on the outside and moist and flavourful on the inside. Exactly what you want for a big turkey."
"Clean-up is as easy as could be expected with a deep-fryer. I like the clever design which allows you to drain the oil from the bottom of the machine."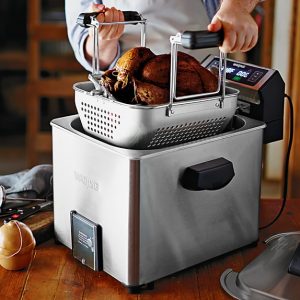 Waring Pro Rotisserie Turkey Fryer Negatives: 
Takes up a lot of counter space (but does free up oven space)
The cord is quite short and can come out easily if bumped
Takes longer than expected to get up to frying temperature
The Takeaway on the Waring Pro Rotisserie Turkey Fryer: 
If you're looking for an electric indoor turkey fryer that is capable of cooking small-medium size turkeys up to 18 pounds, this Waring Pro makes an excellent choice. It's a top-quality product at a very reasonable price, and most importantly, it cooks up some delicious turkey. That's exactly what you need, right?
Takes up a Lot of Space When Not in Use
While there are a few negatives to this indoor rotisserie turkey fryer, including the large size, it does free up oven space at Thanksgiving and Christmas when it's most often at a premium. However, it's ideal if you have somewhere like a garage to store this when it's not in use.
But, only a Minor Negative
This turkey fryer is certainly not for those who have a very small kitchen and lack storage though! As for the other negatives, they are only minor things that don't really take away from the most important thing: seriously delicious deep-fried turkey!
So if that's what you're after, this could very well be the machine for you. It's a top-quality indoor fryer that works well, and will also save you a bit of money on oil when compared to other fryers.
Where Can I Get the Waring Turkey Fryer?
You can easily get the Waring Pro Rotisserie Turkey Fryer on Amazon. Click the button below to check for the best prices and also to see if this product is eligible for free shipping with a Prime membership:

Compare Turkey Deep Fryers
Besides this one from Waring, there are plenty of other quality options, both indoor turkey fryers and outdoor deep fryers. You can see some of our top picks in this handy comparison chart below:
Have your Say about the Waring Turkey Fryer
What are your thoughts about this electric turkey deep fryer from Waring Pro? Is it a winner, or are you considering the very popular Butterball Indoor Turkey Fryer? Leave a comment below and let us know what you think. We'd love to hear from you.
Also be sure to give this article a share on Facebook, Pinterest, or Twitter. It'll help other home cooking enthusiasts, like yourself find this useful resource.
Last update on 2021-08-05 / Affiliate links / Images from Amazon Product Advertising API