If you want to find out whether or not the Outdoor Gourmet Pro turkey fryer is the right option for you, keep on reading! We'll run down the pros, cons, FAQs and more on this popular outdoor turkey deep fryer.
Outdoor Gourmet Pro Turkey Deep Fryer Kit
If you're looking to deep fry a turkey for your next Christmas, Thanksgiving or Easter feast, then you have a few basic choices. There are outdoor deep fryers such as the Outdoor Backyard Gourmet Pro Fryer Kit that we're going to review in more detail.
Then, there are a couple of outdoor oil-less fryers for a healthier alternative to deep frying turkey. Finally, for those that live in colder climates, there are indoor turkey fryers such as these popular ones from Masterbuilt Butterball.
We prefer the outdoor oil fryers to the other alternatives for a few different reasons, including the following:
Keep the heat and smell of deep frying out of the house when cooking food
It's very impressive for your guests to watch the outdoor oil fryers!
It's fun to do (but, safety first please)
You can cook up a really big turkey (check out the Grand Gobbler!)
The taste of deep-fried turkey beats any of the oil-less ones, hands down
Gas cookers are quicker than electric ones
Adjustable flame
Outdoor Gourmet Frying Kit
If you're convinced that outdoor turkey deep frying is the way to go, then let's talk about whether the Outdoor Gourmet Turkey Fryer is the right option for you. Here are a few basic details about this product.
This Outdoor Gourmet Fryer has everything you need to get started with deep frying turkey safely in your backyard. It includes a cast-iron stand, 30 qt pot, turkey rack and lifter. There is also a 5 PSI regulator and thermometer. The only thing that you'll need to provide yourself is the propane tank.
Aluminum Stock Pot with Lid Included
If you're looking for a pot, then you'll have a couple of options, either aluminum or stainless steel. The aluminum ones are lighter and cheaper but are slightly harder to clean and are also less durable.
On the other hand, stainless steel stock pots are heavier and more durable, but they're also quite a bit more expensive. Which one is right for you? They both have their disadvantages and advantages so you'll have to decide for yourself what's most important to you.
What about the pros and cons of this popular outdoor cooking appliance? Keep on reading!
Where Can I Buy the Outdoor Gourmet Fryer?
Do you want to know where you can get this popular deep fryer? The best place to find it is on Amazon. Check now for the lowest prices and deals, and also to see if this product is eligible for fast, free shipping with a Prime membership.
Get your Outdoor Gourmet turkey fryer today:

Outdoor Gourmet Pro Turkey Deep Fryer Pros:
Reasonably priced and offers good value for the money
Complete turkey frying kit with everything you need
Automatic regulator shut-off (after 15 minutes)
Single burner with a sturdy stand
This type of deep fryer is easy to use and set up
Create an extra special Thanksgiving feast for your family!
Also, perfect for home brewing as it can handle large amounts of liquid
It's patio cooking made easy!
Backyard Pro Turkey Deep Fryer Cons:
An aluminum fry pot is not ideal for all people. We strongly prefer the stainless steel ones because they're far more durable.
Automatic shut-off after 15 minutes. Safe, but annoying!
38,000 BTU output, which is less than other higher-quality outdoor turkey deep fryers. Many are in the 50,000 BTU+ range.
No details about a warranty on Amazon
Lack of information on the Amazon product description
The cast iron stands are more durable than something like this one
What do People Think about the Backyard Pro Turkey Fryer?
—>Read More Customer Reviews on Amazon<—
"Arrived quickly and was just as expected. I've used it a few times now for deep frying a turkey and other things too like fish or seafood. It works well and it appears to be durable enough for my purposes. It's ideal for use at a steamer kit too."
"I got this kit to homebrew beer with and it's just so much better than doing it indoors on the stove. It heats up the wort way more quickly and doesn't make a ton of steam and heat inside the house. A solid buy and would totally recommend for brewing, but I imagine it'd work well for deep frying stuff too."
The Takeaway on the Outdoor Gourmet Pro Turkey Deep Fryer
If you're looking for an outdoor turkey deep-frying kit, this one from Outdoor Gourmet Pro probably shouldn't be it. Although the price is most certainly right, and this kit will fry your turkey in style, there are far better options.
The thing we like least about this outdoor turkey frying kit is the low output of the regulator. At 38,000 BTU's, this is about half of the most powerful kits. This means it will take a long time for your oil to heat up, and it will be hard to maintain the correct temperature in cold climates, or on windy days.
Shop Now for the Backyard Pro Fryer
Do you want to learn more about the Outdoor Gourmet Deep Fryer? Then head on over to Amazon to find out all the details you need to know to help you decide if it's the right one for you:

Frying Only One Turkey? Opt for Kamp Kitchen
If you're only going to fry turkey once, then this kit may make a decent choice (also check out the Kamp Kitchen turkey frying kit). However, in our experience, these cheap turkey frying kits are not durable.
The stands and regulators break, or never worked that well to begin with. The cheap aluminum pots get warped very easily, and won't sit evenly on the stand (danger!). There often isn't enough power to get your oil up to the correct temperature quickly.
Kamp Kitchen Turkey Fryer
30 quart aluminum pot with lid
Fully welded steel stand
38,000 BTU cast iron burner
Chrome plated T-star turkey rack & lifter
Heat shield
Consider a Higher-Quality Outdoor Deep Frying Kit that'll Last for Years
For those that want to deep fry a turkey for many Thanksgivings to come, we recommend some of the higher quality outdoor turkey frying kits. They are easier to set-up, have more stable and durable stands, a higher BTU output which heats the oil much faster, and higher quality stainless steel pots.
Some of our favorite outdoor deep frying kits include the following options:
The Grand Gobbler from Bayou Classic
Bayou Classic is one of the most trusted names in outdoor deep frying. They have a reputation for some very high quality products at reasonable prices. This Grand Gobbler Turkey Frying Kit is the king of deep fryers! It's designed to handle those 25+ pound turkeys in style. And of course, it'll work great for smaller turkeys, and other cuts of meat as well.
Check out the review: Grand Gobbler Turkey Fryer. Or, you can head on over to Amazon to buy it now:

Eastman Outdoors Stainless Steel Outdoor Cooking Set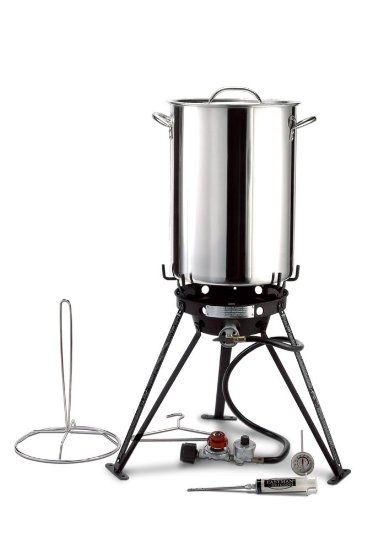 The Eastman Outdoors Stainless Steel Outdoor Cooking Set is one of the highest quality outdoor turkey fryers that you can buy. It has some excellent reviews on Amazon and for good reason! It's a top-quality turkey frying kit that is extremely well built. If you want something that'll last for years and years, we generally recommend staying away from an aluminum turkey fryer.
Some of the things we love about the Eastman Outdoors Turkey Frying Kit is that it includes a stainless steel pot, 65,000 BTU's of output (quick oil heating), and has an optional 2-year warranty.
Learn More about this Stainless Steel Turkey Fryer
Do you want to learn more so you can see if it's the right choice for you? Check out the review: Eastman Outdoors Outdoor Turkey Fryer. Or, you can head over to Amazon to get this top-quality turkey fryer now:

FAQs
There are a number of common questions that people have about this product. Here are the answers to some of the most popular ones.
What is the Outdoor Gourmet Pro Turkey Fryer?
The Outdoor Gourmet Pro Turkey Fryer is a cooking appliance specifically designed for frying turkeys outdoors.
How does the Outdoor Gourmet Pro Turkey Fryer work?
The fryer uses propane gas to heat the oil in the fryer pot, creating a high-temperature environment for frying the turkey.
What is the maximum turkey size that can be fried in this fryer?
The Outdoor Gourmet Pro Turkey Fryer can typically accommodate turkeys up to 18 pounds in weight.
How long does it take to fry a turkey using this fryer?
Frying time can vary depending on the size of the turkey, but on average, it takes about 3-4 minutes per pound of turkey.
Is the fryer safe to use?
The Outdoor Gourmet Pro Turkey Fryer is generally safe to use when proper precautions are taken. It is important to follow the manufacturer's instructions, maintain a safe cooking area, and handle hot oil with caution.
Can I use the fryer for other types of food besides turkey?
Yes, the fryer can be used for frying other foods such as chicken, fish, and even vegetables.
Does the fryer come with a thermometer?
Some models of the Outdoor Gourmet Pro Turkey Fryer may include a built-in thermometer to monitor the oil temperature, but it is advisable to use an additional thermometer to ensure accuracy.
Are there any specific maintenance requirements for the fryer?
It is important to clean the fryer thoroughly after each use, removing any residual oil or food particles. Regularly inspect the fryer and its components for any signs of wear or damage.
Can the fryer be used indoors?
No, the Outdoor Gourmet Pro Turkey Fryer is designed for outdoor use only. Using it indoors can be dangerous due to the high heat and open flame.
Is the fryer portable?
Yes, the Outdoor Gourmet Pro Turkey Fryer is generally portable and easy to transport, making it convenient for outdoor cooking events or gatherings.
Have your say about the Outdoor Gourmet Deep Fryer
What are your thoughts about the Outdoor Gourmet Turkey Fryer? Is it the right one for you, or are you considering another brand? Leave a comment below and let us know what you think.
Also be sure to give this article a share on Facebook, Pinterest, or Twitter. It'll help other backyard cooking enthusiasts, like yourself find this useful resource.
Last update on 2021-08-05 / Affiliate links / Images from Amazon Product Advertising API