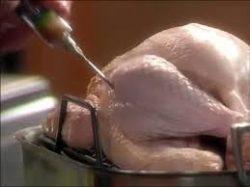 Deep-Fried Turkey Seasoning Packs for Restaurant Quality Turkey
Deep-fried Turkey is considered a traditional Thanksgiving dish. History has it that this concept of deep-frying turkey began in the southern part and later on achieved nationwide popularity. Homemakers and cooking enthusiast have made the turkey a perfect twist for family gathering, barbecue party and other special events held at home.
For so many years now, Thanksgiving celebration is never complete without the turkey served on the table. That is why most household heads and homemakers have learned how to make their own deep-fried turkey to serve their families.
We recently shared here a simple recipe and easy steps to cook deep-fried turkey. We also shared deep-fried turkey tips to make cooking more convenient for everyone! Now, let us give you a few more turkey-frying tips whether you're doing it indoor or outdoor.
First-Timer Tips for Deep Frying a Turkey
For first-timers, it is important for you to know that the best turkey parts for deep-frying are the wings, thighs, breast and drumsticks. The ideal weight is  a turkey of about eight- to ten-pounds.
The next important thing you need to know about deep-frying turkey is the amount of cooking oil you need to use. There are some turkey pots though, that have the 'fill-line' indicator for you to know the appropriate oil level that you're adding to your pot.
For the Health Conscious Turkey Fryer
For the health-conscious families, there are fryers that don't actually need oil. They use the infrared technology instead, that produces the same tender, crispy and juicy result in the turkey. Check out this oil-free outdoor turkey fryer.
Whatever turkey fryer you're cooking, you will achieve a real mouthwatering deep-fried turkey with the help of some seasoning.  Below are some of the frequently used deep-fried turkey seasonings that can help you spice up your turkey all the more!
Cajun Injector Turkey Frying Spice Kit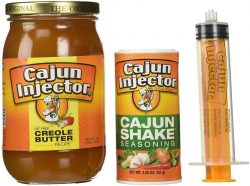 This product is a buttery mixture that's so ideal not just for deep-fried turkey, but for other meats like pork, lamb and chicken, too.
It includes a Cajun Shake for more seasoning and injector to make sure your turkey's flavorful inside and out.
You can easily get the Cajun Injector Turkey Frying Spice Kit on Amazon today:

LSU Tigers NCAA 
This is yet another deep-fried turkey seasoning favorite. For a reasonable price, the LSU Tigers NCAA comes in a box of three different seasoning.
The wet includes a Cajun seasoning, steak and rib rub, and barbecue rub. This allows you to play experiment and play around your turkey's flavor and taste.
You are able to save with this seasoning especially that shipping is FREE when you order the soonest possible. And since this product is inspired by the world's most popular sport, the basketball aficionados in the family are definitely going to enjoy their turkey more!
Go to the Amazon page to purchase the LSU Tigers NCAA today:

Tony Chachere's Marinade Roasted Garlic & Herb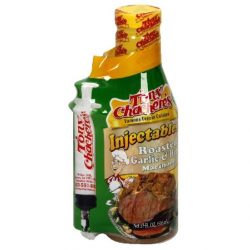 Of all the deep-fried turkey seasoning packs we have here the Tony Chachere's Marinade Roasted Garlic & Herb is the highest-ranking product in the said category on Amazon today.
For such a very low price, this deep-fried turkey extender already comes with an injector that allows the flavor to get deep inside the turkey.
Purchase the Tony Chachere's Marinade Roasted Garlic & Herb today while it is still offered at the lowest price on Amazon:

King Kooker Deep Fried Turkey Seasoning Pack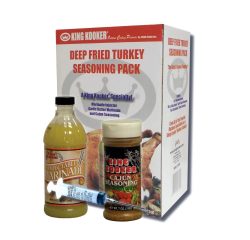 The King Kooker Deep Fried Turkey Seasoning Pack is the last but definitely not the least in our deep-fried turkey seasoning packs.
This gives you the option to let the flavor stay both inside and outside the turkey by injecting the marinade. Or, you may simply season your meat minutes before deep-frying it.
Go to Amazon to buy the King Kooker Deep Fried Turkey Seasoning Pack today: