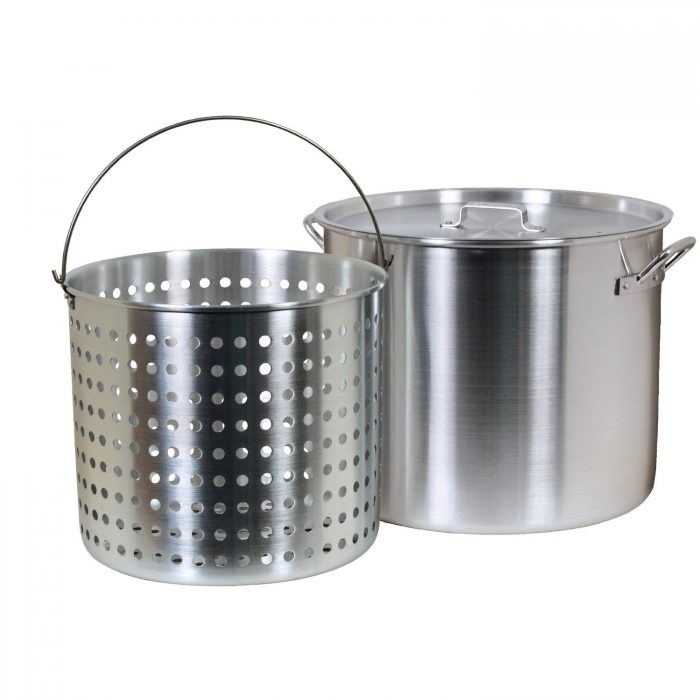 Are you looking for a top-quality outdoor boiling pot at a very reasonable price? Then the Brinkmann turkey fryer pot should be at the top of your list. Read our buying guide, packed with information to help you decide if it's the right choice for you.
Brinkmann Boiling Pot Review
The Brinkmann Boiling Pot is more than just a turkey frying accessory. It is designed for one to cook soups and stews to perfection. Undoubtedly worth its price, this stockpot is an all-in-one cooking gadget.
Ideal for Outdoor Cooking
Described as a boiling pot, it can cook basically anything and everything one needs on all occasions, including home-brewing. This cooking product is designed to work with a gas cooker.
Fast Boiling
But since it boils fast and cooks efficiently, it does not consume too much gas. What's best about this Brinkmann cooker is that, a lot of cooking enthusiasts can use it for both indoor and outdoor cooking. If you do things like canning indoors, then you may want to consider this oversized stock pot.
Useful for a Variety of Meal Options
Some may find it a bit pricey, but it is certainly a practical choice especially if an individual is using it for almost all his cooking needs. This pot comes with a strainer basket to ensure the draining of excess oil from a deep-fried turkey or chicken. The same basket can also be used to steam veggies, seafood or fish for healthier meal options.
Where Can I Get The Brinkmann Boiling Pot With Strainer Basket?
The Brinkmann Boiling Pot is available on Amazon. Check now for the best prices and also to learn more about this top-quality frying pot with basket:

The Specs on the Brinkmann 42-Quart Turkey Frying Pot:
17 x 20 x 20 inches
5 pounds
Comes with a strainer basket
With easy handles
An all-purpose cooking equipment
Made of heavy-duty aluminum
Compare Aluminum Turkey Deep Frying Pots
Check prices, sizes and options for the best turkey frying pots in our chart below:
People that Like the Brinkmann Boiling Pot are Saying:
"This pot can hold a full sack of crawfish, which is what I was looking for. It's light enough that it's easy to handle but durable enough that it doesn't dent easily."
"This is a good product. It worked great for shrimp boil for 20+ people. You could also do a batch of homebrew beer in it, or deep fry a turkey."
"This is a good lobster pot. I just used it one weekend and I was able to steam 10 1-1/2lb lobster and I might have been able to put more in."
"This is certainly value for money and I use it as a homebrew pot all the time!"
Aluminum vs. Stainless Steel Turkey Frying Pots
There are two kinds of turkey frying pots to consider: stainless steel and aluminum. Both have some advantages and disadvantages.
Stainless steel pots are more durable, and can last a lifetime. They're easier to clean up as well. However, they are quite expensive, and can be heavier in weight. This makes them more difficult to lift and handle when you're frying a turkey, or cleaning them.
Aluminum turkey frying pots aren't so durable, and may not last a lifetime. The top-quality ones can last for years though so this isn't such an issue. They are not as easy to clean because the oil doesn't seem to slide off them so easily.
However, aluminum pots are cheaper, and lighter.
Stainless steel vs. aluminum turkey frying pots, the choice is yours! But, here are some of our top picks for stainless steel turkey frying pots:
Drawbacks of the Brinkmann Boiling Pot:
Quite expensive according to some (you may want to consider this cheaper turkey frying pot below)
A few complaints about the quality
Steaming issues for a very few people
Can be a little bit difficult to clean aluminum pots
Camp Chef 42 Quart Aluminum Pot & Basket
Perfect to boil, steam or simmering
Aluminum is easy to clean and protects against corrosion
Handles for convenient carrying
Lid with handle
Basket included - 14 3/4" Diameter x 14" Height
The Takeaway on the Brinkmann Boiling Pot:
Are you looking for a multi-cooker? Then, you can now finally say, "The search is over!" The Brinkmann Boiling Pot is designed to meet your various cooking needs including boiling, steaming and deep-frying.
Ideal for Home Cooking
The Brinkmann Boiling Pot is definitely the best for home cooking. Whatever the weather for the day is, you can definitely use this cookware set to prepare the dishes for your loved ones. Designed for both indoor and outdoor cooking, the Brinkmann Boiling pot has a light weight and sturdy handles.
Convenient to Use
It is important for you to know the said features as they let you move the pot anywhere convenient for you to cook. Don't be sad if there's a heavy downpour in your place. This boiling pot is the best to cook soups for your whole family and loved ones to enjoy while the season is cold and wet!
Where Can I Find It?
Experience the benefits of cooking using this all-in-one cookware set. Hit the button below and be led to the Amazon page to purchase the Brinkmann Boiling Pot today.

How to Clean a Turkey Fryer Pot
Clean up can sometimes be a little bit more difficult with aluminum pots vs the stainless steel ones. That's because the grease sticks a little bit, instead of just sliding right off. However, you can check out this video with some of the top tips and tricks for doing it the easy way:
Have your Say about this Boiling Pot with Strainer Basket
What are your thoughts about the Brinkmann Turkey Fryer Pot? Is it worth a buy, or are you considering another brand? Leave a comment below and let us know what you think. We'd love to hear from you.
Also be sure to give this article a share on Facebook, Twitter, or Pinterest. It'll help other home cooking enthusiasts, like yourself find this useful resource.
Last update on 2021-08-05 / Affiliate links / Images from Amazon Product Advertising API