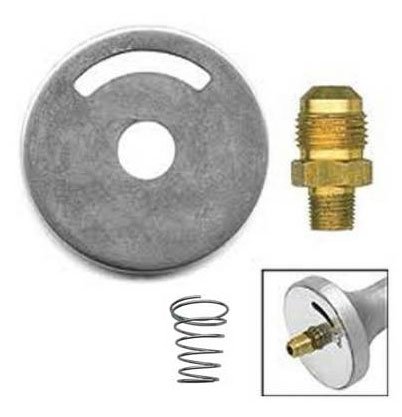 If you're looking for turkey fryer parts, you've come to the right place. If your Bayou Classic Turkey Fryer or your high pressure gas cooker is broken and you're looking for propane burner parts, then look no further.
Without further ado, let's get to the goods-turkey fryer replacement parts for your Bayou Classic frying get-up.
Bayou Classic BG10 High Pressure Cast-Iron Replacement Burner for Round Bayou Classic Cooker Frames
This item is sold in 4, 6, and 10 inch models. Be sure to enter the model number of your Bayou Classic propane cooker in order to ensure you get the correct piece. The details are as follows:
1 replacement burner for round Bayou Classic outdoor cookers

Heavy-duty cast-iron

High-pressure burner- 150,000 BTUs of power

Includes rotating disc vent
There is free shipping on orders over $25. You can check it out for yourself on Amazon:
Bayou Classic High Pressure Regulator
This item is a replacement high pressure regulator and control valve for Bayou Classic Outdoor Gas Cookers. It's one of the most requested turkey fryer parts that people need to replace. Here are the details:
10 psi regulator/control valve.

1/4-inch fnpt output

Type 1 connector to propane tank

Brass control valve
In the comments on Amazon, people note that you can often use this to replace the cheap regulators on other brands of turkey fryers. There is no safety shut-off, which is a feature many people appreciate in a turkey deep fryer. It's made of brass, so if you're careful not to over tighten it, it can last for years.
There is free shipping from a few different Amazon resellers. Check it out for yourself:
Orifice Connector Brass, 3/8 Inch Flare M x 1/8 Inch MNPT
If you want to hook up an LPG hose to a cast-iron single burner, this orifice connector is what you need. Here are the details:
Orifice #57

3/8″ flare M x 1/8″ MNPT

Suitable for use with single burners

Finish: Satin

Enables LPG hoses to connect to cast iron burners on cooker appliances
People on Amazon commented that this product is exactly what it is described to be and worked perfectly. You can buy it over on Amazon:
Bayou Classic 0-30 PSI Adjustable Regulator + Hose
If you're looking to fine-tune your turkey deep frying, this is what you'll need. Many cheap turkey frying kits come with a hose and regulator that puts out far fewer PSIs and it can take forever to get the oil up to temperature with the wimpy flame. Put out some serious power this regulator and hose from Bayou Classic.
However, be careful! With this thing, it's possible to put out way too gas, so use with caution. Start small and gradually increase the flame. It also may not work the first time you use it, if you go all-in. Start small and you'll have much better results. It's very precise and allows you to get the exact amount of flame that you want.
Here are the details:
0-30 psi adjustable regulator

48-inch stainless braided hose

3/8 flare swivel fitting

3/8-Inch Flare fitting has an outside diameter of 5/8-Inch
Shipping is free and there are lots of places selling one of the most popular turkey fryer parts from Bayou Classic on Amazon. Check it out for yourself today:
Bayou Classic BG10 Air Shutter + Spring
This air shutter and spring from Bayou Classic is a LP cooker replacement part made for Bayou Classic's BG10 high pressure burner element. The air shutter is 2.5 inches in diameter. It's made specifically for the BG10 Model. For the BG12, check below:
Click Here for the BG12 Air Shutter
Head on over to Amazon to buy this air shutter + spring for your BG10: