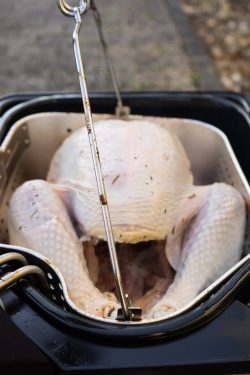 Looking for the best ways to cook turkey? Want to preserve its flavour and natural juices? If so, you need a turkey fryer!
This small appliance can take your favourite meals to a whole new level. It's easy to use and can cook a wide range of foods.
Save Time and Oven Space with the Best Turkey Fryer
With a fryer, the turkey will be ready in just 30 minutes. Cooking it in the oven can take as long as four hours. Thus, deep frying can free up your time. Another added bonus is that you can free up oven space too! Roast potatoes, bake casseroles, or stuffing for that big family feast
Crispy, Golden and Delicious
This cooking method also gives the turkey a crispy brown crust and amazing flavors. On top of that, it's safe and works with most types of oil (but our top choice is peanut).
Eager to find out more? Here is why you need an outdoor propane fryer and how to choose one. We'll give you all the information you need, as well as some of our favourite recommendations.
What's our Top Pick for Best Fryer?
Or, just head over to Amazon and check out the Grand Gobbler from Bayou Classic:

How Does an Outdoor Deep Fryer Work?
This appliance makes deep frying a breeze. It's perfect for cooking fried turkey, which enjoys huge popularity in the Southern cuisine. Compared to grilling and roasting, it's safer and less time-consuming.
A turkey fryer has several parts. Most models consist of:
A poultry holder
A stock pot with lid
A burner
A thermometer
A lifter
The stock pot is made of stainless steel or aluminum. Stainless steel units have a higher price tag but last longer. Check out one of our top-rated stainless steel pots, this one from New Professional.
With an outdoor fryer, the poultry is completely submerged in hot oil. This gives it a crispy texture and complex aroma.
The latest models require up to 50 percent less oil than traditional deep fryers. Some feature a built-in timer, plastic handles, and auto shut-off. Others come equipped with a LED screen, vented lids, and temperature control.
Compare Outdoor Turkey Fryers
Or, if you already have a pot and all the other accessories that you need, you may want to consider just the stand and burner. One of our top picks is the Bayou Classic Banjo Burner.
Why Use One?
As you see, these appliances boast handy features that make cooking easier. A small turkey will only take 30-35 minutes to cook, while a large one will be ready in one hour or so. Just think about how much time you'll save!
Another advantage is the rich flavor. This cooking method seals in the juices, so your meal will taste amazing!
Compared to an oven, this appliance is easier to clean. It's no need to worry about oil spills! Moreover, turkey fryers don't release toxic fumes as it happens with grilling.
Polycyclic aromatic hydrocarbons, the chemicals released when grilling meat, affect lung function. In the long run, these toxins increase cancer risk. Deep frying has none of these side effects.
Additionally, the meat will be tender and evenly cooked.
Is Deep Frying Healthy?
Contrary to popular belief, deep frying can be healthy. It all comes down to the oil used.
With an outdoor turkey fryer, you can use just about any oil. Ideally, choose oils with a high smoke point, such as sunflower oil, or canola oil.
Another great choice is coconut oil, which contains beneficial fats. Rich in medium chain triglycerides, it boosts your energy and increases metabolism. Just make sure you melt it before cooking.
A serving of deep-fried turkey has only 253 calories. Roasted turkey boasts 241 calories per serving. The difference between the two is negligible.
Considering these benefits, it's worth investing in an outdoor fryer. You'll spend less time cooking and maintain your figure!
Shopping for a Turkey Fryer
Choosing the best one is the hardest part. There are literally hundreds of options available.
What do you Want to Fry?
First of all, determine what you expect from a turkey fryer. The latest models can cook just about anything, from chicken to veggies. Here are some examples:
Prime rib roast
Pork butt
Chicken wings
Mini meatballs
Onion rings
Mushrooms
Funnel cakes
Bell peppers
Steak
Crawfish
Sweet potato chips
Mozzarella sticks
Simply remove the poultry holder and place the ingredients directly into the bowl. You can even use the fryer to make maple syrup or can fruits and vegetables.
Deep Fryer Capacity
Next, consider the fryer's capacity. A small turkey fryer is ideal for small families and people who live alone. If you have guests regularly or cook a lot, choose one with a larger capacity such as the Grand Gobbler, which is capable of cooking birds up to 25 pounds.
You can check out the Grand Gobbler for yourself on Amazon:

High Capacity Output
Look for an outdoor fryer with high power such as this high pressure outdoor gas cooker from Bayou Classic. This will reduce cooking time and heat the oil faster.
You can get this high pressure cooker easily on Amazon:

Propane vs. Electric
To stay safe, you can choose an electric model. Propane fryers can bring the oil to the point of combustion, which may result in accidents. Additionally, you must store and refill the propane tank every time you cook.
Electric turkey fryers are suitable for both indoor and outdoor use. Some feature breakaway power cords and automatic shut-off function. If money is an issue, pick a smaller fryer.
Ease of Cleaning for an Outdoor Propane Fryer
Consider how easy it is to clean. Choose a dishwasher-safe fryer to make things easier. Be aware that frying fatty foods requires frequent cleaning of the device.
While some deep fryer kits have spigots and drain valves on the pot, in our experience they don't work that well. It is a bit easier to drain the oil and clean the pot, but the downside is that they often leak after only a few uses.
All the Extras for a Turkey Deep Fryer
Take into account the amount of oil needed, maximum turkey size, ignition type, and safety features. Compare prices from different manufacturers.
Check out the extras, such as adjustable temperature control settings and indicator lights. Turkey fryers with a thermostat are safer, so don't overlook this option.
High-end models are often equipped with multiple baskets and easy drainage systems. Some fryers have a cool touch exterior to prevent accidental burns. Others notify users when it's time to replace the oil.
What if you can't afford these features? In this case, purchase deep fryer accessories separately.
For instance, you can buy a thermometer or extra baskets for your small fryer.
Just make sure you choose a trusted brand. Popular options include King Kooker, Delonghi, Bayou Classic, and Brinkmann. These manufacturers are known for their quality products.
Grab Your Outdoor Propane Deep Fryer Today!
Shopping for a propane fryer isn't rocket science. However, you still need to do some research and assess your options.
Think about how much food you'll prepare and how much space you have. Consider the energy usage and maintenance requirements.
Always take safety precautions and watch the fryer while it's working. Learn to cook with hot oil and use the equipment properly.
Follow the manufacturer's instructions to stay safe and increase the lifespan of your device. Make sure you get a least a one-year warranty.
Ready to Shop for a Turkey Deep Fryer?
What are the best turkey fryers? Let's get to it!
If you're ready to buy a turkey deep fryer for your next Thanksgiving, Easter or Christmas feast, then you've come to the right place! Now that you know all about the features you need to look for, you're ready to go.
Or, if you want to save yourself a bit of time, check out our top-rated fryers, for both indoor and outdoor cooking.
Option #1: Eastman Outdoors Turkey Fryer
This turkey deep fryer from Eastman Outdoors is a serious machine at a very reasonable price. To be fair, it is a bit more expensive than the cheap outdoor deep-frying kits.  But, it's totally worth it because it'll last you for years, instead of just a few uses.
We love this kit from Eastman Outdoors for a whole lots of reasons including:
Top-quality, easy to clean stainless steel pot
65,000 BTU's of power
Complete kit has everything you need to deep fry a turkey perfectly and quickly, as well as chicken, seafood and other meats
Optional, 2-year warranty
Free shipping with Amazon Prime
Excellent customer service
Sturdy stand
Handy drain valve makes for easy cleanup
Extremely versatile and can be used for frying basically all types of food in large, or small quantities
Adjustable flame makes it easy to keep the oil temperature within your preferred range.
Where to Buy the Eastman Outdoors Fryer
Check out the Eastman Outdoors Fryer on Amazon today:

Option #2: Char-Broil Big Easy No Oil Turkey Fryer
If you're looking to go a bit healthier this holiday celebration, you may want to consider this oil-less turkey fryer, the Big Easy. Like the fryers that use oil, this one also runs on propane and is designed for outdoor use.
Unlike most of the other air fryers, the Big Easy is big enough to cook a turkey. In this case, up to 16 pounds. But, what about the taste? In our experience, it's not quite as delicious as the deep fried turkeys (what is, really?) but it's a huge step above a turkey that's roasted in the oven in terms of juiciness and flavour. It also takes a shorter amount of time.
Why You'll love the Big Easy
Here are some the features that you'll love for the Char-Broil Big Easy:
TRU infrared cooking technology with a powerful heating element
Crispy and golden on the outside every single time
Capable of roasting up to 16-pound turkeys or chickens, or a whole ton of fish and seafood
The package includes the cooker, basket with lifter, thermometer, lid and cooking guide
Oil-less: healthier cooking because doesn't use oil (it's cheaper too)
Fully enclosed 16,000 BTU propane burners
Cooks evenly with no hot or cold spots
Cooks turkey at about 8-10 minutes per pound (10 pound turkey in well under 2 hours)
Easy to clean
You can keep on eye on the cooking process easily'
Stylish black finish
Sale
Char-Broil Big Easy Oil-less Liquid Propane Turkey Fryer
Oil-less Turkey fryer offers a healthier WAY TO cook
Powered by Char-Broil Tru-Infrared cooking technology delivering juicy results inside and a crispy...
Prepare perfect whole turkeys, chicken, or roasts up to 16 pounds
No hot oil to burn, splatter, or spill- save money and stress without having to purchase or dispose...
Includes cooker, cooking basket with lifter, meat thermometer, lid and quick start cooking guide
Where to Buy It
For more information, you'll want to read our review: Char-Broil Big Easy No-Oil Fryer. You can also shop now, and you'll often get free shipping with Amazon Prime:

Need some tips and tricks for getting started? Check out these Air Fryer Recipes.
Option #3: MasterBuilt Butterball Indoor Electric Fryer
Sale
Masterbuilt MB23010618 Fryer, XL Stainless Steel
Aluminum basket with patented drain clips
Oil drain Valve for easy clean-up
Dishwasher safe components (pot, basket, lid, drain valve)
Designed and tested to meet commercial standards.Magnetic breakaway cord for safety
Magnetic breakaway cord for safety
If you're looking for an indoor electric deep fryer, then you'll need to look no further than Masterbuilt Butterball. They are the only brand that we give our hearty recommendation to for indoor deep fryers. They are simply so much better than all the rest.
While Butterball makes different sizes, the largest one is capable of cooking up to a 22 pound turkey! The large capacity means it can handle just about anything. This is a serious bird to cook indoors, but this machine can do it easily in style.
There's an adjustable thermostat that makes it easy to control the oil temperature for cooking a variety of fried foods. The powerful heating elements keeps the oil at the correct temperature, even when putting something as large as a turkey in it.
Why You'll Love It
Although it does take up space on your kitchen counter, you'll love how the Masterbuilt Butterball Fryer frees up oven space. You can have a stress-free holiday with your family instead of worrying about how everything is going to get cooked in time. Unlike many other indoor electric deep fryers, the power cord is actually a reasonable length!
Plus, it cooks your turkey to delicious perfection: crispy on the outside, but moist and juicy on the inside. We also love to make french fries and other types of fried foods at our house with this thing.
Quick tip: you could also use this "indoor" turkey fryer on your patio as long as it's not raining or snowing. You can save some space in the kitchen and keep it from getting too hot.
Just about the only negative is that it doesn't come with a viewing window to keep an eye on the cooking process.
More Details about the MasterBuilt Butterball Indoor Fryer
Check out this line of top-quality indoor fryers for yourself on Amazon today. If you live in a cold climate, it's most certainly what you need!

Option #4: Waring Pro Rotisserie Deep Fryer
If you're looking for a bit healthier alternative to the turkey fryers that use oil, you may want to consider this rotisserie option from Waring Pro. It's got some serious power, at 18,000 watts and can cook turkey at around 3.5 minutes per pound. That's just under an hour for a 15 pound turkey.
Like most other electric deep-fryers, it's designed for indoor use. The thing you'll love is the rotisserie feature which allows you to cook turkey using 1/3 less oil than a standard deep fryer. You'll save money, and have a bit healthier of Thanksgiving! That's a win on both counts in our books.
Frees Up Oven Space and Saves Time
Although it does take up a bit of counter space, and weighs 29 pounds, it frees up a ton of space in the oven. Roast veggies, cook a dessert, etc. with no worries about the timing of everything. We also love that you don't have to slave away cooking a turkey all day, when you can just throw it in your Waring Pro Fryer at the last minutes.
You can also use it all year round fo french fries, fish, and any other kinds of fried foods you could ever hope for.
We love the cool-touch sides and bottom, meaning that the machine is not at hot as you think it would be when cooking. You should still use caution, but it's safer than some of the other ones that get extremely hot.
More information and Where to Buy this Rotiserrie Turkey Fryer
For more information, be sure to read our review: Waring Pro Turkey Fryer. You can also shop now on Amazon:

Option #5: King Kooker Review
If you're looking for a cheaper, all-in-one turkey frying kit for outdoor use, then King Kooker might just be the best choice. We love that it's everything you need to get up and running for your next holiday celebration.
In terms of durability, it's not as solidly built as some of the higher-quality ones, but for the price? It's very reasonable for what you're getting and it should last you for at least a few years of frying and steaming, turkey and just about anything else you might want.
Features for the King Kooker
33,000 BTU burner (runs on propane)
29-qt aluminum turkey stockpot included
Turkey rack and lifting hook for easy handling
Fry pan and basket
Maximum 15 pound turkeys, but works best for ones in the 10-12 pound range
Sale
Where to Buy the King Kooker Turkey Fryer Kit
Sounds like the right one for you? You can learn more here: King Kooker Frying Review. Or, head over to Amazon and pick it up:

Option #6: What about an Electric Smoker?
Masterbuilt 20071117 30" Digital Electric Smoker
Digital panel controls on/off, temperature, and time
Four chrome-coated smoking racks. Adjustable air damper for smoke control
Patented side wood chip loading system - add wood chips without opening the smoker door
Integrated thermostat temperature control for even, consistent smoking
Fully-insulated smoker body
Okay, so it's not a deep fryer, but an electric smoker may be exactly what you're looking for, for turkey along with lots of other kinds of meat, fish or cheese. Try it out for yourself and you'll see exactly what we mean. The result is delicious, slow-cooked meat that just melts in your mouth.
Check out our top recommendation here: Masterbuilt Electric Smoker Review.
Is Turkey Frying Dangerous?
We'd be lying if we said it wasn't. The outdoor propane ones a wee bit scary. Open flame, big pot of boiling oil on a sometimes flimsy stand. It's certainly more dangerous than roasting a turkey in the oven.
That said, there are numerous things you can do to make it safer, including keeping your pets and children away. Also be sure to NOT use an outdoor fryer indoors, even in your garage or in an enclosed patio. That's how house fires start!
You may also want to consider an indoor fryer to eliminate many of the safety concerns.
You can learn more here: Deep Frying Safety Tips.
Have your Say about our Fryer Reviews!
What are your picks for the best turkey fryers? Leave a comment and be sure to let us know. And don't forget to share this on Facebook, Twitter, or Pinterest.
Last update on 2019-06-18 / Affiliate links / Images from Amazon Product Advertising API